Upcoming Sessions
All enrollments will be taken on the Ultra Camp Page: Ultra Camp
High School and Middle School Racing
We welcome all Orcas students 7th through 12th grade with an interest in continuing their sailing progression to join us this Spring for local practices and competitive opportunities. Practices will be held Monday, Tuesday, and Thursday after school, with opportunities to travel regionally for regattas, clinics, or joint practices with other teams.
We primarily sail the double-handed Flying Junior (FJ), a 13ft dinghy with two sails. Additionally, we will have Laser Radials and Laser 4.7s to accommodate additional sailors in smaller single-handed boats. Contact us for more information on the summer race circuit.
Middle School Exploratory
We plan to host a Middle School Exploratory class again this spring. Contact Mr.Z at the Middle School or our staff for details. Classes will be Wednesday mornings. There is no fee for joining this Exploratory, and the program is supported by donations and community outreach.
Women's Learn to Sail
Women's Learn to Sail classes will be offered every Monday this summer with some additional events as well. This is a by-women for-women program for all who identify as women.
Summer 2023 Youth classes:
Registration opens March 1st, see classes dates on the Ultra Camp page: Ultra Camp
Watch this site and our Facebook and Instagram pages for additional special events, races, or clinics this summer.
---
Long Beach Yacht Club's Rose Bowl Regatta
One of the biggest draws for choosing sailing as opposed to other High School sports is the travel. In a regular season, sailors attend regattas from Portland to Bellingham with occasional trips to places like Silverdale, Hood River, Olympia, and of course, a camping trip on Jones Island. This winter however, the sailors got to travel out of state and experience sailing against teams from around the country at Long Beach Yacht Club's Rose Bowl Regatta.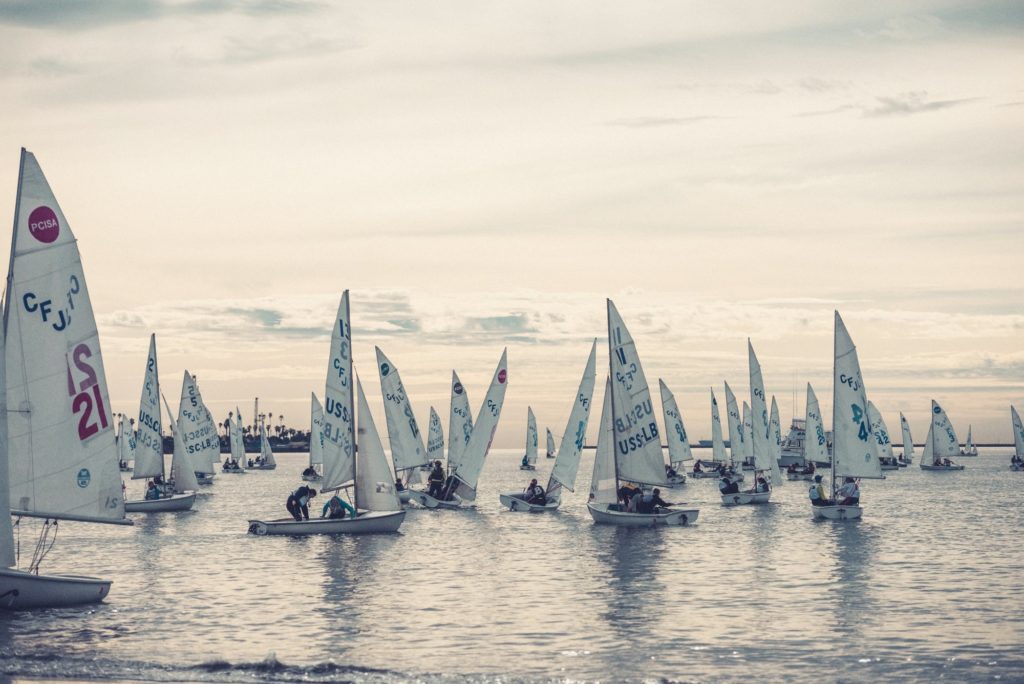 The California fleets tend to be highly skilled and are a challenging group to sail against. The Orcas kids held their own and placed in the middle of the pack. Dagny Kruger and Lola Walker sailed as a pair with Else Ranker and Silas Kok making up the other half of the team. For Ranker, the regatta was extra challenging having only crewed in the boat a few times and being accustomed to driving.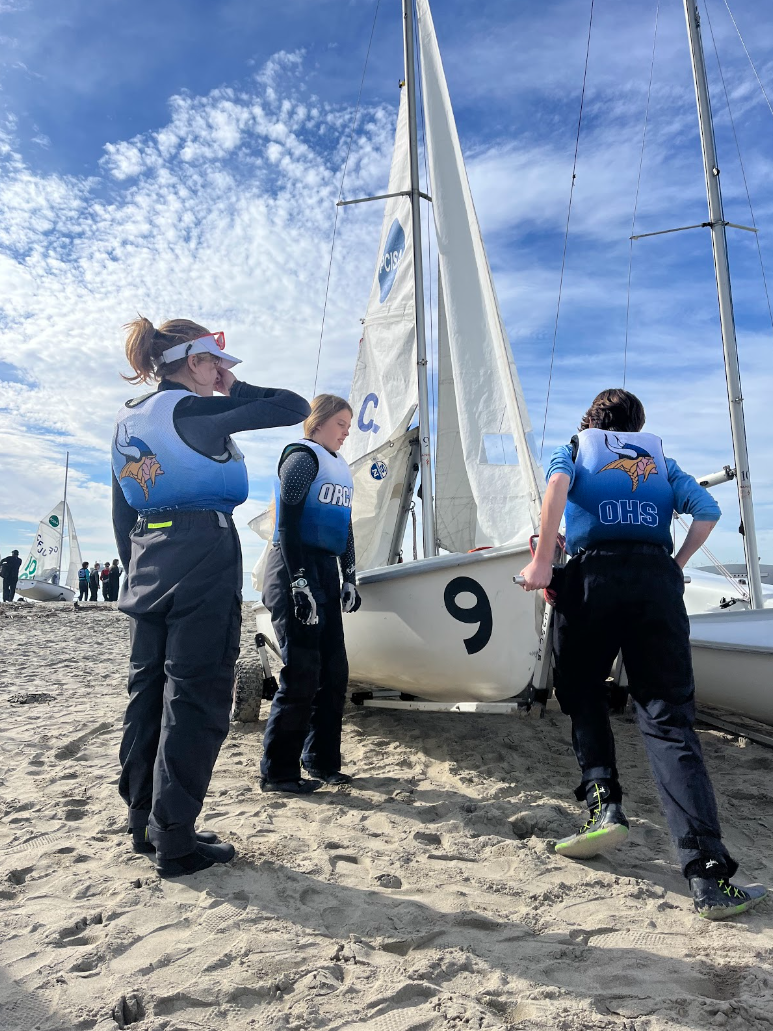 All the kids sailed well and learned a lot, but their final verdict was that docks (as opposed to launching through high surf) and rocks (rather than sand in everything) are in fact pretty great. The palm trees and warm weather were a welcome change of pace for the team after practicing for the event in high winds and low temperatures, but nobody had expected the surf to be as high as it was inside the breakwater.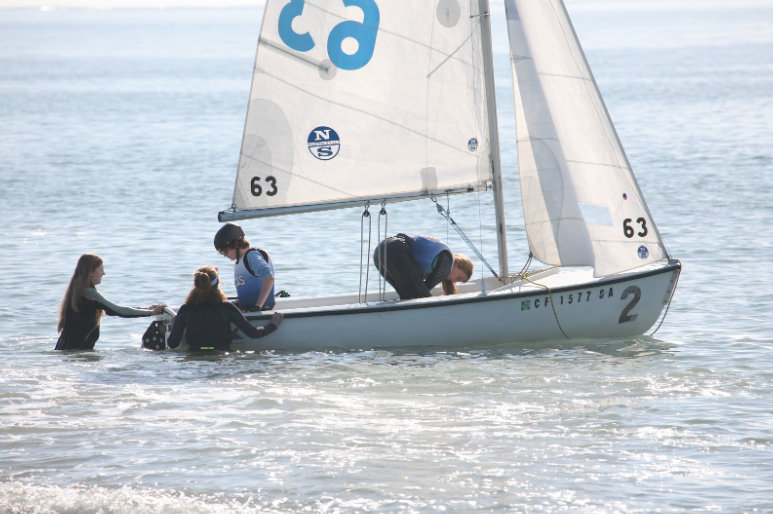 The Orcas kids quickly figured out how to point the bow of their boat towards the oncoming waves while rotating boats on the shore, but other teams didn't fair as well. The Orcas sailors and parents stayed in the swells after their team was back on the water to help others avoid damage. With 120 participants between the high school and college fleets, they had their hands full with boats to manage.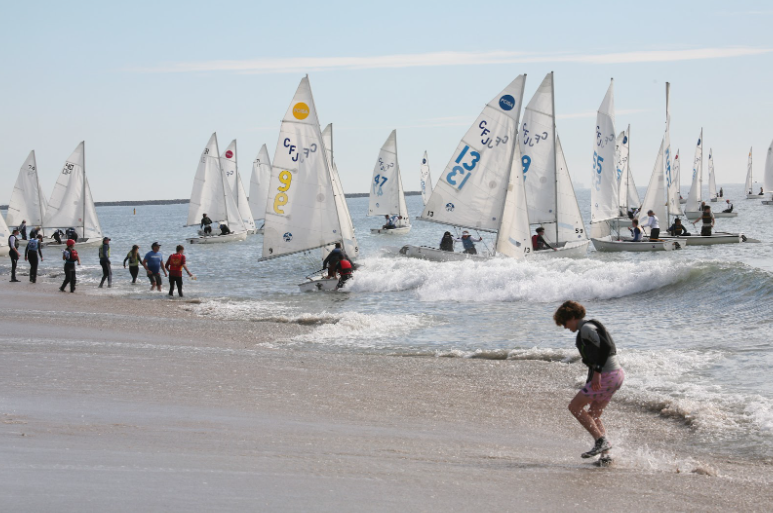 Now that everyone's home amongst our docks, rocks, and pine trees, the sailors have a few more winter season events with the Orcas Island Yacht Club racers before they gear up for the spring season ahead.
Written By: Julia Soes
Photo Credit: Taylor Smith