This holiday season, you can give gifts that make a difference right here at home. OICF offers this online gift catalog to benefit important programs in our community. Browse the catalog below, pick out gift opportunities, and give gifts in honor of your friends and loved-ones. Donate any amount of $10 or more. You receive a tax deduction and your friend or loved one receives notice of your generous gift in their name. Your gift will make a real difference for our island community. Questions? Contact OICF at 360-376-6423 or info@oicf.us.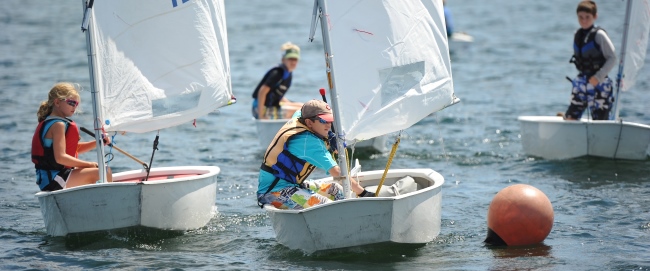 Sail Orcas is included in the OICF catalog this year. We're asking for donations to buy one more Opti Pram for our summer Jr. Sailing program. The boats in this photo are Optis.
---
The next few weeks will mark the close of the first official fall season for Orcas High School Sailing ever! Each practice boasted attendance of 8-10 sailors, twice a week since the beginning of September. Sailors travelled nearly every weekend to compete at favorite NW venues including Sail Sand Point for Oktoberfest and Cascadia Cup, Port Madison for the annual JAM regatta, Shilshole for Junior Olympics and the Gorge for the Single-handed regional Cressy qualifier.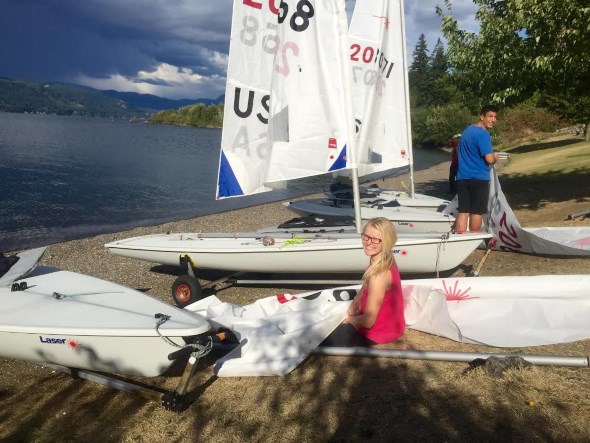 The most recent event was Cascadia Cup at Sail Sand Point in Seattle. Cascadia Cup draws both college and high school teams each year which is great exposure for our team to the broader sailing community. The conditions on Saturday were stormy and wild, gusting to nearly 30 knots at times and allowing for only a few races in each division. Sunday brought light to moderate oscillating southerlies and allowed for seven races to be scored total for the weekend. Our sailors enjoyed the heavy breeze but found the directional wind shifts challenging to keep track of. They worked hard though, to maximize speed off the starting line and make smart decisions which landed Vikings team 1 in 5th and Vikings team 2 in 11th out of 23 teams. We're extremely proud of the Viking spirit over the weekend and of these finishes over-all. Looking forward to pushing hard during more fleet racing in the spring.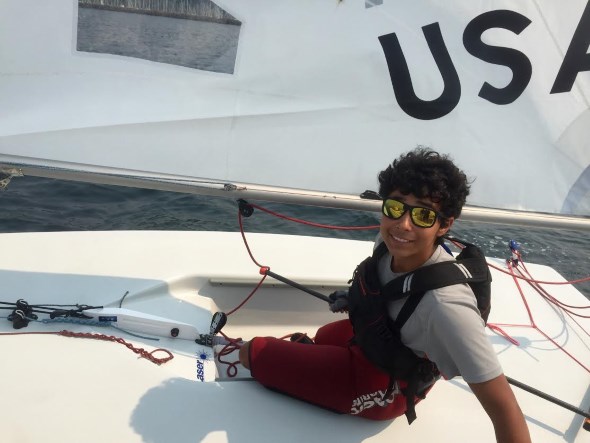 We want to extend a big thank you to the families of the sailors who've traveled with the team and supported by driving, chaperoning, hosting, feeding and/or cheering on the team! It makes such a big difference to have a professional pit crew with the sailors when we're on foreign turf. Additionally, we send out a big thanks to Ben Luna for helping at practices on Tuesdays all fall. You're always there with a smile on your face and ready to assist in any way. It makes a big difference!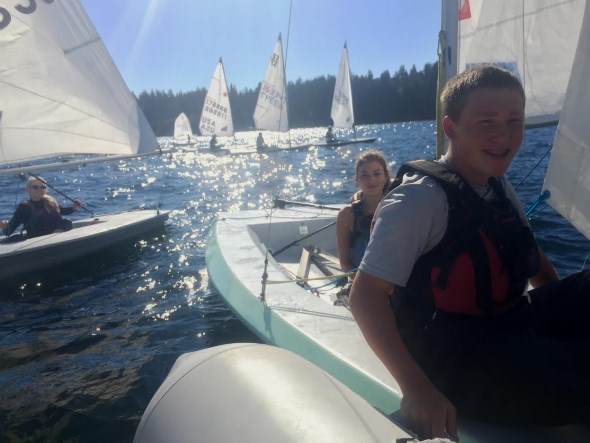 Looking ahead to the 24th and 25th of October, Sail Orcas and Orcas Island Yacht Club will host the Trick-or-Treat Team Race Regatta for the last regional high school league event of the season. We're looking for help on the water and on land!
--- Hannah
---
Sail Orcas is pleased to announce that Orcas native Hannah Tuson-Turner has joined the Sail Orcas Board as its new Sailing Director. She will oversee all Sail Orcas sailing programs, including teaching the adult learn-to-sail lessons, coaching the Orcas high school sailing team, serving as the head instructor for the middle school exploratory sailing lessons and supervisor of the summer junior lessons. This fall, we will be able to offer a full high school fall racing program.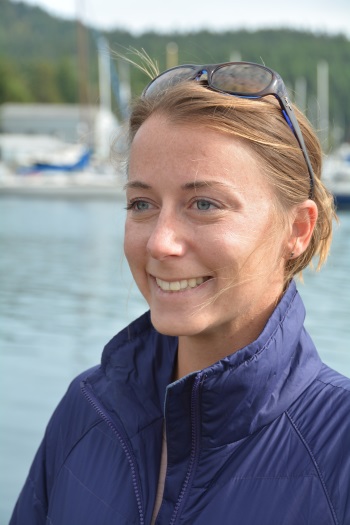 Hannah learned to sail with the Orcas summer junior lesson program when she was eight. She was a founding member of the 2002 OIHS sailing team, went on to sail for the University of Hawaii, and is currently a Level 3 US Sailing professional coach. After moving back to Orcas this summer, Hannah's presence was immediately felt as she was the guest head coach for a week-long advanced racing clinic, coaching 22 sailors from around the Pacific Northwest.
For the past year Hannah was the Junior Sailing Program Director for the Encinal Yacht Club in Alemeda, CA, overseeing extensive year-long racing and learn-to-sail programs. Prior to Encinal she spent three years as Director of the Half Moon Bay Yacht Club's junior program, where she created community year-round learn-to-sail programs and a high school team.
Hannah's involvement with Sail Orcas will help us to create sustainable programs for the next generations of Orcas sailors. Welcome back to Orcas, Hannah!
---
The first of hopefully many more July youth regattas in honor of the founder of Jr. Sailing on Orcas - Ray Jarecki - happened this weekend. The event had an excellent turn out and the weather was fantastic for sailing. We had 8 to 16 kts of breeze on Saturday and 4 to 8 kts on Sunday and we were able to get off at least 10 races in all five fleets and even squeezed in 12 races in the Opti division. Westsound showed off it's nature of being a perfect venue for youth sailing this weekend. Many thanks go to the dozens of volunteers that helped to make it a great weekend of sail boat racing. Burke Thomas got some really nice photos of the sailors that can be found at the NWISA Facebook page at: PHOTOS
Results: Laser 4.7 Laser Full Laser Radial Opti Flying Junior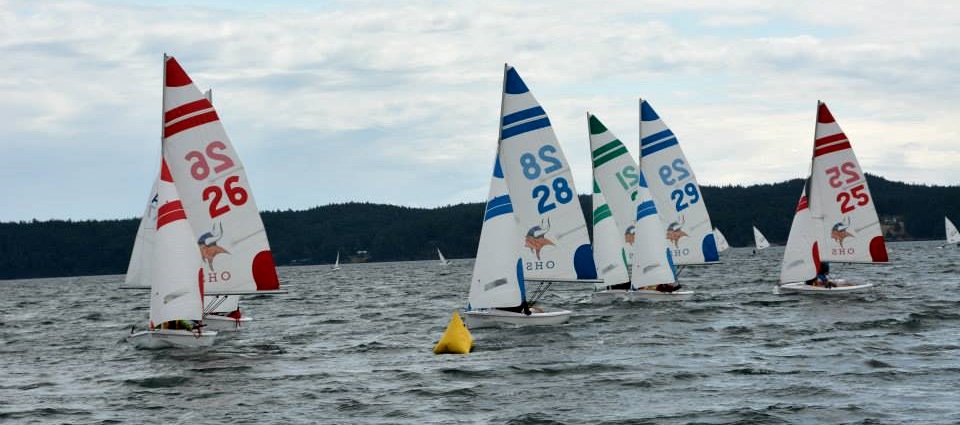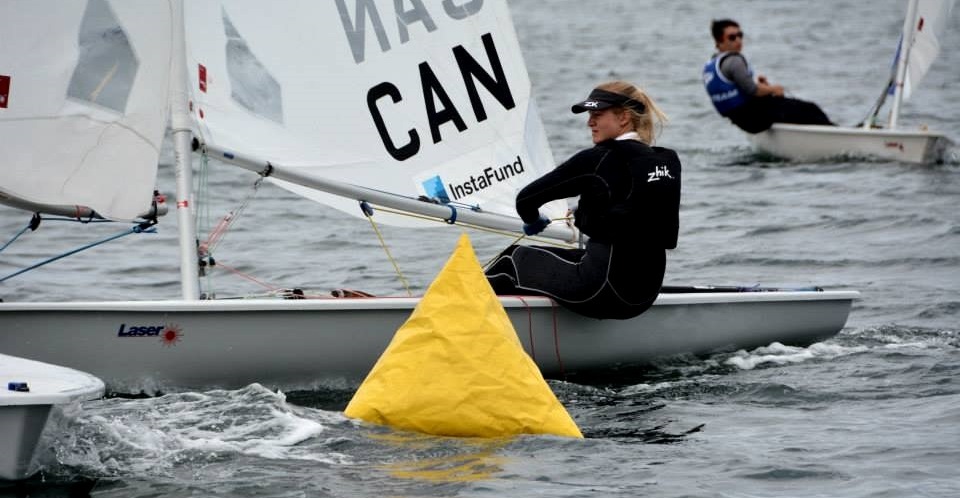 ---
The Sail Orcas Summer Dinner "was a huge success" says Burke Thomas the event organiser. "We served meals to a big crowed over the course of the afternoon and evening, Chris White had gigantic turnout for the marine equipment yard sale, the silent auction was well attended and we had a number of souls out for an adventure on Westsound sail boat ride. It was a great community event and we really need to thank the many volunteers who worked to make it a big success."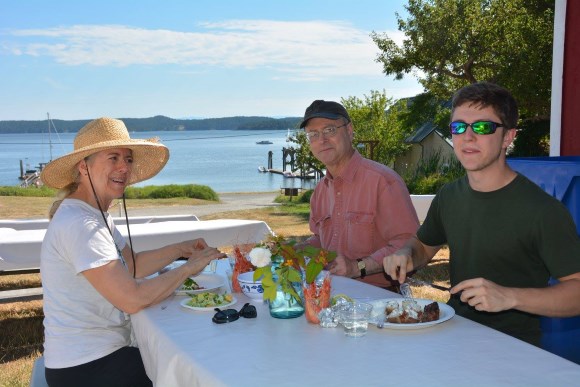 ---
Nine members of the Orcas High School Sailing Team competed at the Northwest Interscholastic Sailing Associations Port Townsend Open Regatta on Saturday May 9th. This was the last NWISA regatta of the spring and Mother Nature came through with a moderate NE wind and summer like temperatures. The regatta was sailed right off the city waterfront, with historic old town and the fantastic Northwest Marine Center as the backdrop. The twenty boat fleet got started racing at 10:30 am.Fourteen races were completed by 5:30 pm stop time. Orcas had a solid first set of races, combining both good boat speed and course tactics putting them at the top of the standings where the team battled Port Townsend and Friday Harbor the rest of the day for first place, strong finishes in the last four races ensured the win.
The Team competed very well at the last three weekend regattas leading up to the Port Townsend open, giving the sailors the confidence needed to grab the gold this weekend. For complete Orcas spring regatta results including the Port Townsend Open go to http://scores.hssailing.org/schools/orcas/s15/
The team will continue to practice the rest of the school year on West Sound preparing for the summer North West Youth Racing Circuit, which includes a two day regatta on West Sound July 25&26. http://www.nwyouthsailing.org/nwyrc.html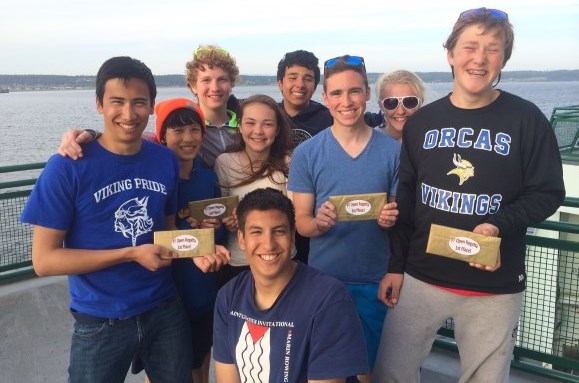 Wylie Kau, Ronan Kau, McCabe Webb, Jadyn Kopp, Dominick Wareham, William Coe,
Maggie Toombs, Axel Greening and Michael Chesher (kneeling)
---
For the past 22 years Orcas youth ages 8-15 have been introduced to the sport of sailing through this popular program. Sail Orcas is happy to present this summer program which focuses on teaching sailing skills in a safe, fun environment. With a variety of boats including Vanguard Prams, FJs, Lasers, Optis, and Bics, the program can accommodate beginners and experienced sailors wanting to expand their skills. We offer the perfect venue on the protected waters of Westsound on Orcas Island. Tuition this year will be $110 but early enrollers up to May 31 will get a discounted tuition of $95.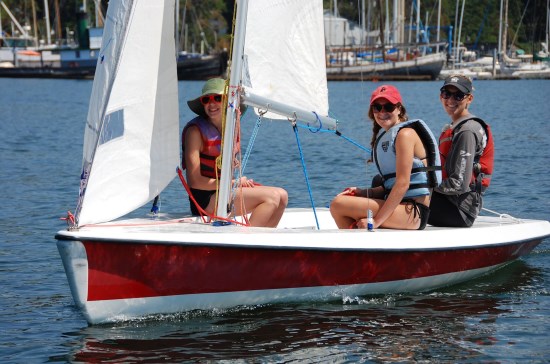 ---
The Orcas High School sailing team has had away regatta madness this March, travelling and competing away from home every weekend in March. This adds up to 42 NWISA district races that the team has raced in, compiling well over 40 hours of on-water tiller time at those regattas. All the hard work is starting to pay off. The team seeded all three boats into the gold division at the Sail Sand Point combined division regatta on March 21&22 and at the end of two long days of racing, two of the Orcas teams finished in the top ten overall. The team carried that momentum from SSP into the final NWISA March Regatta at the Mt Baker Open on Saturday March 28th, where the strong shifty winds played into their sailing strengths. Twelve races were completed in the 29 boat fleet with the Orcas teams placing 4th, 5th and 10th overall. Orcas had three teams in the event and there are two divisions/boats per team and each boat has two sailors. Complete regatta results can be found at:
The team will host Friday Harbor on their home waters of West Sound April 4th for the annual Orcas Cup and then will hit the road again for a regatta every weekend through May 15th.
---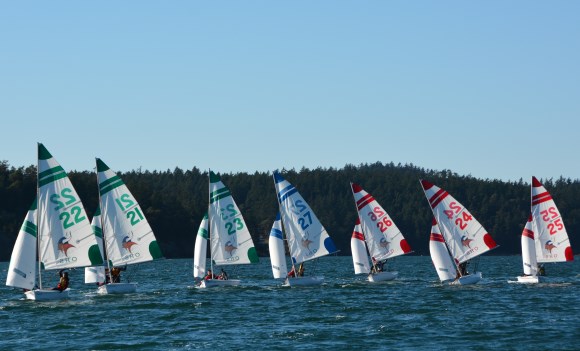 Sail Orcas fund raising for new FJ's in 2015 comes through for our young sailors!
Many thanks to our supporters!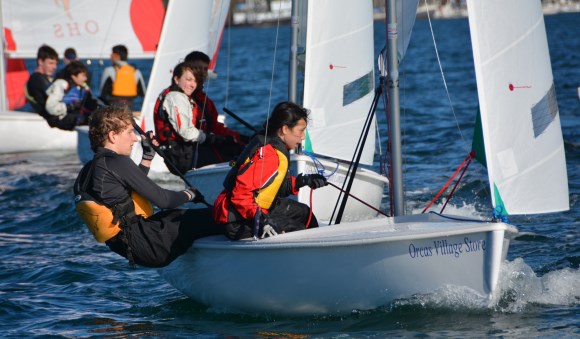 ---