Youth Sailing Fundraising Dinner
Saturday June 27th
Join us at the OIYC Picnic Shelter from 4:00-8:00 p.m.

$35 per dinner (your choice, steak or salmon)
$10 Youth dinner (hamburger or hotdog)
Dinner includes salad, shrimp, potato and dessert.

Join us and meet the summer Junior Sailing instructors, make a bid on a silent auction item, buy a raffle ticket and win a beach Laser, go for a sail on a Sail Orcas keelboat or High School Team Flying Junior.
Tickets are on sale at:
West Sound Marina
San Juan Vision
Windermere Realty
---
Orcas Wins Port Townsend Open
Nine members of the Orcas High School Sailing Team competed at the Northwest Interscholastic Sailing Associations Port Townsend Open Regatta on Saturday May 9th. This was the last NWISA regatta of the spring and Mother Nature came through with a moderate NE wind and summer like temperatures. The regatta was sailed right off the city waterfront, with historic old town and the fantastic Northwest Marine Center as the backdrop. The twenty boat fleet got started racing at 10:30 am.Fourteen races were completed by 5:30 pm stop time. Orcas had a solid first set of races, combining both good boat speed and course tactics putting them at the top of the standings where the team battled Port Townsend and Friday Harbor the rest of the day for first place, strong finishes in the last four races ensured the win.
The Team competed very well at the last three weekend regattas leading up to the Port Townsend open, giving the sailors the confidence needed to grab the gold this weekend. For complete Orcas spring regatta results including the Port Townsend Open go to http://scores.hssailing.org/schools/orcas/s15/
The team will continue to practice the rest of the school year on West Sound preparing for the summer North West Youth Racing Circuit, which includes a two day regatta on West Sound July 25&26. http://www.nwyouthsailing.org/nwyrc.html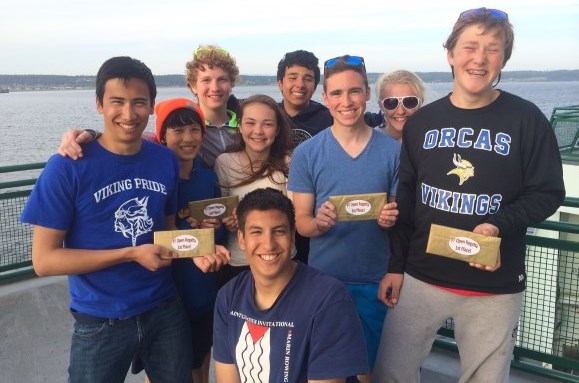 Wylie Kau, Ronan Kau, McCabe Webb, Jadyn Kopp, Dominick Wareham, William Coe,
Maggie Toombs, Axel Greening and Michael Chesher (kneeling)
---
Junior Sailing starts June 22nd
For the past 22 years Orcas youth ages 8-15 have been introduced to the sport of sailing through this popular program. Sail Orcas is happy to present this summer program which focuses on teaching sailing skills in a safe, fun environment. With a variety of boats including Vanguard Prams, FJs, Lasers, Optis, and Bics, the program can accommodate beginners and experienced sailors wanting to expand their skills. We offer the perfect venue on the protected waters of Westsound on Orcas Island. Tuition this year will be $110 but early enrollers up to May 31 will get a discounted tuition of $95.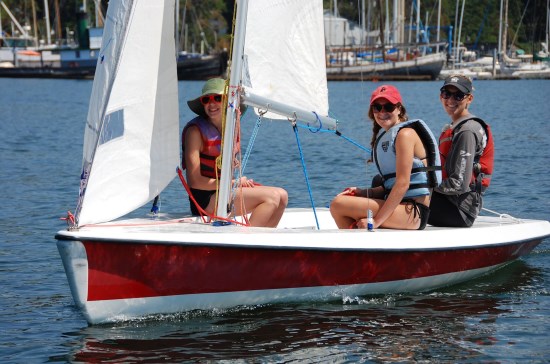 ---
Orcas High School NWISA Update
The Orcas High School sailing team has had away regatta madness this March, travelling and competing away from home every weekend in March. This adds up to 42 NWISA district races that the team has raced in, compiling well over 40 hours of on-water tiller time at those regattas. All the hard work is starting to pay off. The team seeded all three boats into the gold division at the Sail Sand Point combined division regatta on March 21&22 and at the end of two long days of racing, two of the Orcas teams finished in the top ten overall. The team carried that momentum from SSP into the final NWISA March Regatta at the Mt Baker Open on Saturday March 28th, where the strong shifty winds played into their sailing strengths. Twelve races were completed in the 29 boat fleet with the Orcas teams placing 4th, 5th and 10th overall. Orcas had three teams in the event and there are two divisions/boats per team and each boat has two sailors. Complete regatta results can be found at:
The team will host Friday Harbor on their home waters of West Sound April 4th for the annual Orcas Cup and then will hit the road again for a regatta every weekend through May 15th.
---
10 new Flying Juniors arrived in February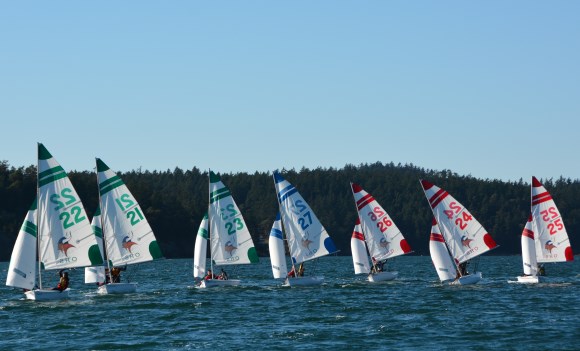 Sail Orcas fund raising for new FJ's in 2015 comes through for our young sailors!
Many thanks to our supporters!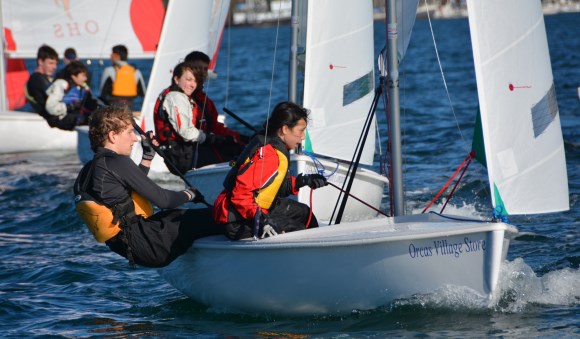 ---
Summer Youth Sailing Camp on West Sound

—

A Huge Success

—

"Believe me, my young friend,there is nothing - absolutely nothing - half so much worth doing as simply messing about in boats." - Kenneth Grahame

"My girls thoroughly enjoyed sailing camp last week, it was a fabulous opportunity for them. (The instructors) Jules and Annalies were terrific - very kind and welcoming.
Please let me know if you ever need anything!" - Caroline Hunter



Last Day of Summer Sailing Camp (61 photos by Burke Thomas)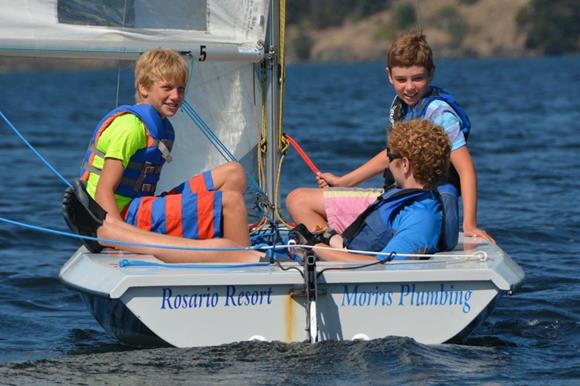 ---