Announcing Our Flying Junior Fund Raising Campaign
Please click on the image to see how you can help.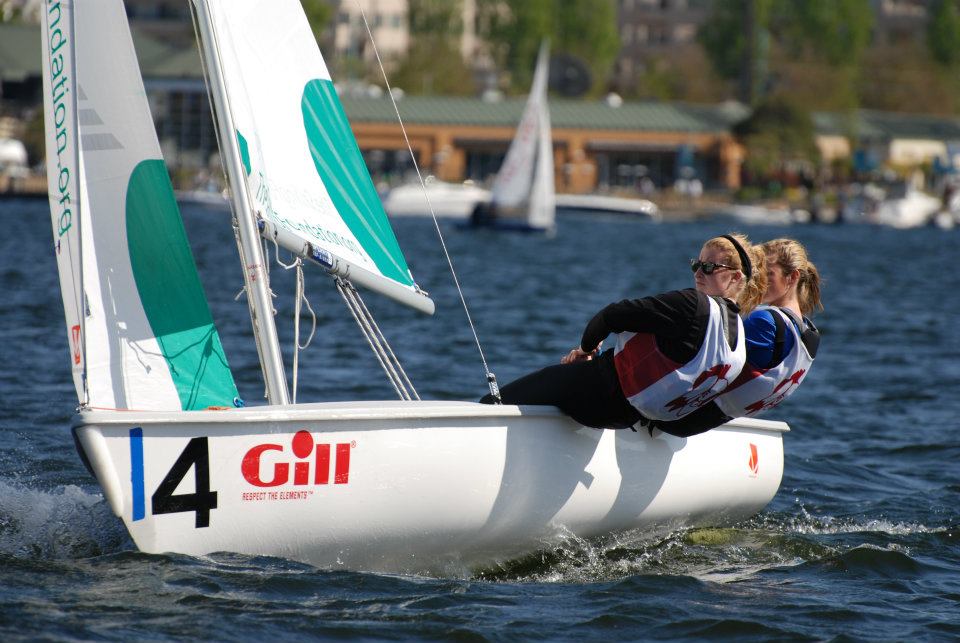 ---
Summer Youth Sailing Camp on West Sound

—

A Huge Success

—

"Believe me, my young friend,there is nothing - absolutely nothing - half so much worth doing as simply messing about in boats." - Kenneth Grahame

"My girls thoroughly enjoyed sailing camp last week, it was a fabulous opportunity for them. (The instructors) Jules and Annalies were terrific - very kind and welcoming.
Please let me know if you ever need anything!" - Caroline Hunter



Last Day of Summer Sailing Camp (61 photos by Burke Thomas)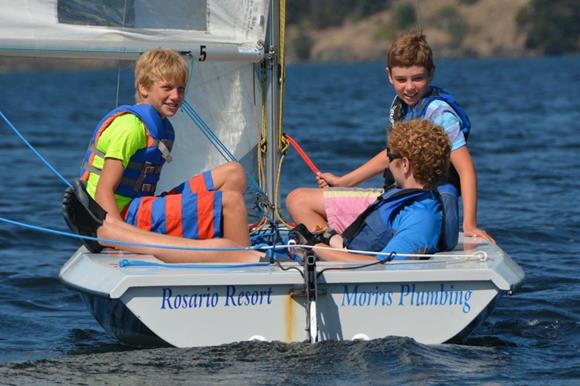 ---
NWISA Kick-Off Regatta
Eight Sailors from the Orcas High School Sailing Team traveled to Seattle Yacht Club Saturday March 8th to take part in the NWISA kick –off regatta. This one day regatta had 24 boats show up. Teams traveled from all over the North West to participate.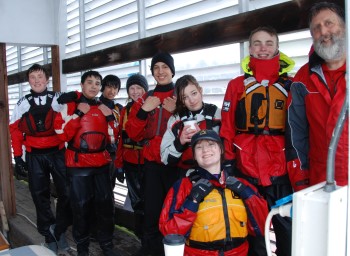 The weather this spring has given us snow, sleet, too much wind and now after the kick off regatta we can add no wind and way too much rain. SYC race management tried their best all day, but Mother Nature only allowed them to get off 3 light air races.
Highlights for Orcas were a second place finish by Wylie Kau and Michael Chesher and a third place finish by Dominick Wareham and Axel Greening. The team will travel to the Bellingham Regional Regatta on Saturday March 15th.
For complete results of kick off regatta, go to Results
---
The 2014 Orcas High School Sailing Team Hits the Water
With snow still falling from the sky and the air temperatures hovering in the 30's, the Orcas High School Sailing Team have taken to the water, ensuring that warmer weather is on its way. The Orcas team is one of thirty schools that participate in the NW District of High School Sailing spring season, with regattas scheduled almost every weekend through May. For more information on High School sailing go to NWISA
Orcas graduated nine seniors from the team last year, which has opened up opportunities for the JV skippers and crews from last spring to step up and sail varsity against the bigger pre-season favorites Bainbridge, Sehome and Port Townsend this year. The first test for the team will come March 8th at the Seattle Yacht Club, kick–off Regatta where 25 teams are expected to participate. Coach Burke Thomas said "This is a young team, with a lot of upside potential. We are going to work very hard at boat handling and team work in the boats, and are going to compete with everyone." Follow the team all season long at Sail Orcas Facebook Page
---
---
---
---
---
The 2013 Orcas High School Sailing Team Hits the Water
Monday, February 25th , the Orcas High School Sailing Team had their annual kick-off potluck dinner, with nineteen students signing up for the spring season. The team has a veteran presence this year, with eight seniors and two juniors returning to sail as well as nine underclassmen all ready to contribute. On the water practices started February 26th with air temps in the low 40's and wind driven rain, (brrr!). The team will practice Tuesdays, Wednesdays and Thursdays through May.
Saturday March 2nd , twelve members of the team travelled to the NWISA Kick –Off Regatta at Seattle Yacht Club. Twenty-six teams and 160 sailors showed up for the all day event. The Orcas team showed improvement each set, working hard to understand the very shifty conditions on Portage Bay. After sixteen races completed Orcas 1 finished 8th overall. You can find results at http://nwisa.hssailing.org/schedule/2012-2013.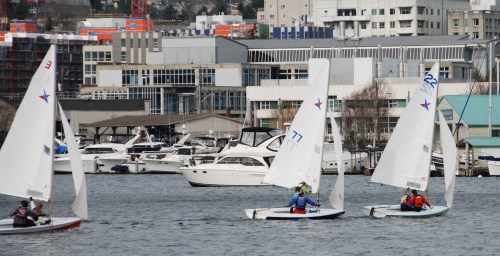 The team continues on the road with regattas at Bellingham March 9th, Seattle March 16&17, and then races on its home waters March 30th in the annual Orcas Cup.
---
Life With Martha
Sunday, February 24th at 4:00PM the Orcas Center
Robert d'Arcy the captain and project manager for the restoration of this 106 year old wooden schooner will entertain us with the story of Martha. Martha is Washington's State's oldest working sailboat and serves as a sail training vessel when not winning races. She has been cleaning up in the pickle-department at the OIYC Round the County race in recent years winning first overall a couple of times.
Join us for what promises to be a memorable event and help celebrate a wonderful wooden boat.
---
Junior Sailing has a Wonderful Summer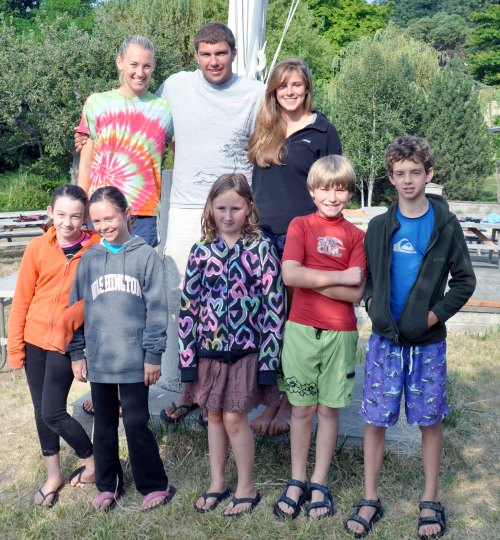 It has been a busy summer for junior sailing lessons on the waters of West Sound, with many kids learning to sail for their first time.
This was the 16th season for the summer junior sailing program which started in 1996 under the direction of former OIYC commodore Ray Jarecki. What a wonderful gift Ray and many others gave to the community by starting the sailing program that has now come full circle with the instructors, who were once junior sailors, now teaching their love for sailing to the next generation.
The lessons are sponsored by Sail Orcas in partnership with host OIYC and run for 8 weeks in the summer. Sail Orcas board member Betsy Wareham headed up the summer program and supervised Taylor Smith, Annalies Schuh and Jules Mann who provided great instruction this summer. Taylor and Annalies are OIHS 2011 graduates and Jules is a senior this year. They all are US Sailing certified instructors who have been members the Orcas High School Sailing Team.
As the coach of the High School team I am very excited about all the junior sailors taking summer lessons and look forward to having them on the high school team in the years ahead. - Burke Thomas
---
2012 WIND CLINIC at the Columbia River Gorge
The week of the 9th of July saw Orcas Island High School Sailors Annie Ryder, Jules Mann, Taj Howe, and Quinn Freedman take to the rough waters of the Columbia River Gorge to participate in the 2012 WIND Youth Clinic and Regatta. WIND is an intensive training clinic for youth sailors interested in furthering their skills in high wind conditions. For three days participants are trained in tactics, sail trim, and boat-handling by an accomplished staff of champion trainers, such as this year's head coach Javier "Rulo" Borojovich.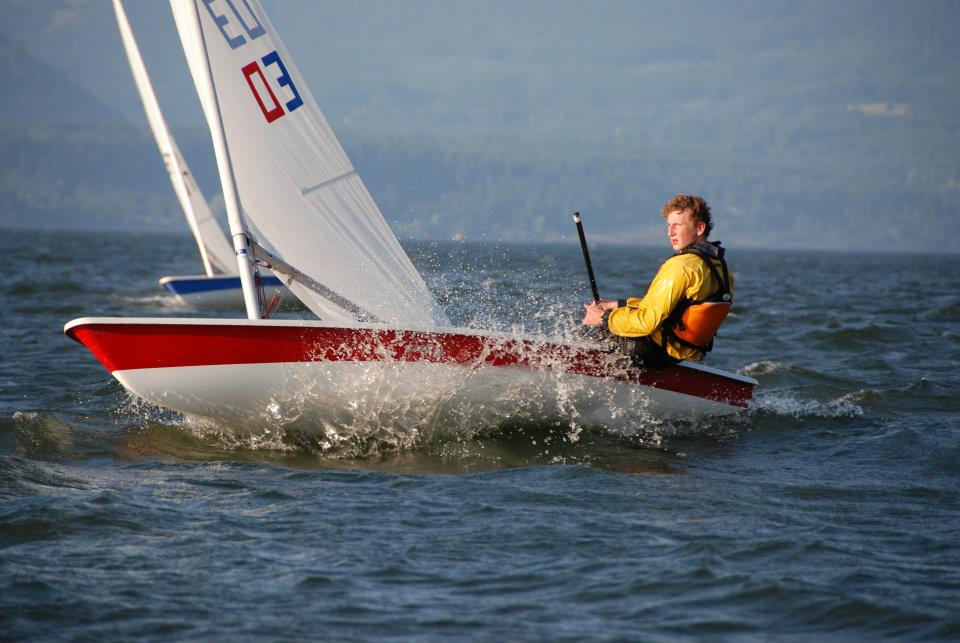 Sailors experienced winds of up to 30 knots in heat above 80 degrees Fahrenheit, and after three days of capsizes and sunburns they were ready for the WIND regatta. Competition was fierce with the laser radial class, composed of 20 sailors, trying for the number one spot which would take them to the Smythe trophy competition in San Francisco, California. All together, almost 30 sailors in three fleets raced on the Columbia River.
Saturday began with low winds and some slight rain, but the day improved with winds up to 12 knots and 6 races completed. Orcas high school student Annie Ryder started off the day with a first place finish in the laser 4.7 fleet. Sunday showed stronger winds and stronger competition. As the final day of racing drew to a close, Jack Toland from Overlake High School proved to be the frontrunner of the radial fleet and finished the regatta in 1st. He will be traveling to San Francisco in August to compete for the Smythe trophy with sailors across the country. Annie Ryder placed third in the 4.7 fleet, and San Juan Island's own Mars le Baron placed first in the full rig fleet.
WIND is an annual event which our Orcas Sailors try to attend every year. Orcas coach Burke Thomas vouches for its importance, saying "I see huge gains in a skippers' skill and confidence when they have completed a week of sailing in the challenging sailing conditions the Columbia Gorge provides. These sailors will carry the skills they have acquired with them the rest of their sailing careers".
---
Junior Sailing to start on June 25th
For two decades kids age 8-15 have been introduced to sailing through the incredible Sail Orcas Junior Sailing program. Morning lessons are geared towards beginners, and run from 9 a.m. to noon, Monday through Thursday. Afternoon lessons focus on sailors with prior experience handling their own dinghy, and run from 1 p.m. - 4 p.m. Monday - Thursday. Sail Orcas is very pleased to announce that we will have professional US Sailing Certified instructors Taylor Smith and Annalies Schuh for the 2012 courses.
Don't missout on a chance to have your kids learn a sport that they can enjoy for life. You can find the registration form under the "Junior Sailing" menu.
---
May 12-13, 2012 Mallory Trophy
Seattle, WA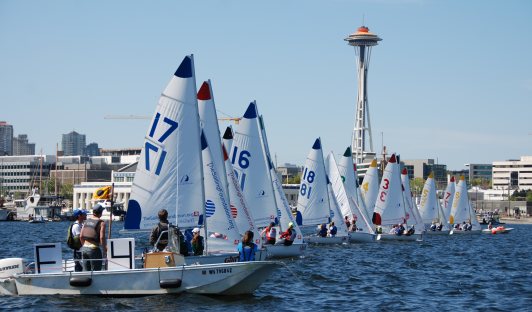 The 2012 Mallory trophy was sailed on the crowded and beautiful body of water just North of Downtown Seattle--Lake Union. The regatta was hosted at The Center for Wooden Boats, on the south shore of the lake, which provided great viewing, wonderful facilities, and quick rotating. Undoubtedly, the star of the show was the weather. Both days saw cloudless skies and temperatures in the 70s. The wind delivered out of the Northwest between 5 and 12 knots. Perhaps most surprisingly, the only thing falling from the sky on this early May weekend in the Pacific Northwest were the dozens of landing seaplanes.
Sailors from across the Nation competed in two fleets of boats. A-division sailed Vanguard 15s, and B-Division sailed Flying Juniors. An entire rotation of 20 races in each division was completed by early afternoon on Sunday. Regatta PRO and multiple Olympic Medalist, Jonathan Mckee, commented several times on the organization, attitudes, and high level of sailing that these competitors exhibited throughout the event. A sure sign that the sport we love is in good hands.
Congratulations to the entire Point Loma High School team, and coach Steve Hunt, on a decisive Victory. Top honors in both fleets also went to Point Loma. A-Division sailors include: Olin Paine, Johannes Mcelvain, and Trevor Hecht. Sailing in B-Division were Jake Reynolds and Maddy Brownsea.
Special thanks to The Center For Wooden Boats, Seattle Yacht Club, Sail Sand Point, all the NWISSA Schools and Volunteers that spent hours and hours preparing for the event, Dick Rose and his team of Judges, and the competitors for sailing a great regatta! The event could never have happened without the dedication and hard work of Burke Thomas, Scott Boye, and Sugar Flanigan.
---
Port Townsend Regatta
Saturday April 21st, 2012
Eleven sailors from the Orcas High School sailing team, travelled to Port Townsend this past weekend to participate in the Port Townsend Open Regatta.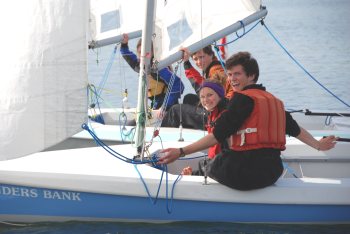 They spent Friday afternoon on the water practicing team racing with the Port Townsend team, and then had some fun off the water sharing a lasagna dinner with PT sailors, and playing some soccer together.
The setting on Saturday was spectacular, the sun was out over the city waterfront, a light northerly breeze filled in on the bay, with Mt Baker, the North Cascades, Mt Rainer and the Olympics all looking down on the fleet.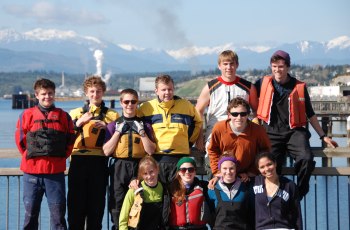 Twenty seven teams took to the water and twelve races were completed over the course of the day. North Kitsap won the regatta with Port Townsend capturing second and Orcas taking third.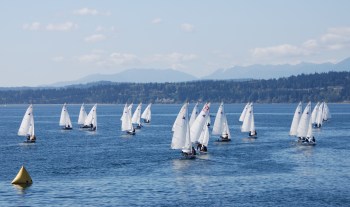 Next up for the team is the NWISA Team Race District Championships in Bellingham April 28 & 29. Complete results for PT regatta can be found here:

---
Orcas sailors pass US Sailing instructors course
Seven sailors spent their spring break on Orcas, completing an intense forty hour course on sailing education, to become certified US Sailing Instructors.
US Sailing instructor Ray Treppa traveled from San Diego to teach the forty hour course, which included both classroom work at WSCH and on the water training on West Sound. The course was sponsored by Orcas Island Yacht Club and Sail Orcas.
Sail Orcas president Chris White said "It is great to get these sailors certified as instructors. They are a key component to sailing programs around the Northwest"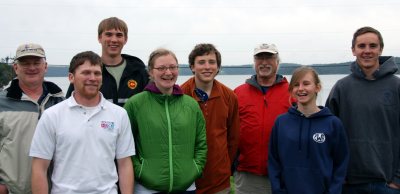 In photo from left to right:

Joe Novello,
Gavin Brackett,
Cameron Schuh,
Veronica Whitley,
Rhys Thompson,
Ray Treppa,
Annie Ryder,
Mars LeBaron
---
Sail Orcas Dock/Float Repair Work Party
A sunny Saturday in April
Seems like everyone was somewhere on a major project yesterday. Between OIYC, SO and major dock destruction at Westound Marina there was no lack of activity. Thanks to Bob Brunius, Bruce Brackett, Gary Renzleman, Mark Smaalders, and Taylor Smith for on dock cleanup, tightening, replanking to solid substructure (36 ft) pressure washing, sharps management, and boat reloading about 7 hours later the condition of the docks is much improved (never perfect).
Thanks to on shore assistance from Julia for Lunch, Betsy for equipment, and Bob Toombs for conveyer belts (60 Ft). I will lay down the remaining 2 belts over the gap between the 2 new floats and over the remaining exposed grating. The new middle section is now under construction and will make a big improvement!
Once again, thanks for coming out with just an email request! -- Doc White

---
Orcas Hosts Port Townsend High School
Team Racing On West Sound April 6th & 7th

The Port Townsend High School Sailing Team traveled to Orcas April 6 - 7 for a two day Team Race meet on West Sound. The Port Townsend bus & hotel for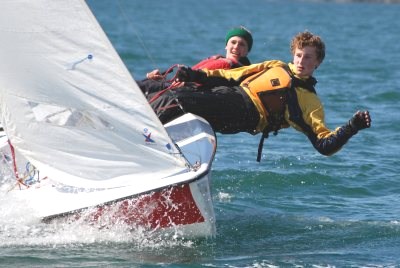 the weekend was the Schooner Alcyone, which they sailed directly to West Sound from Port Townsend.

Sunny skies and moderate NE breeze made for fantastic sailing conditions. Port Townsend coach Sugar Flannigan said "best team racing conditions we have seen all season". The teams ran many mixed team,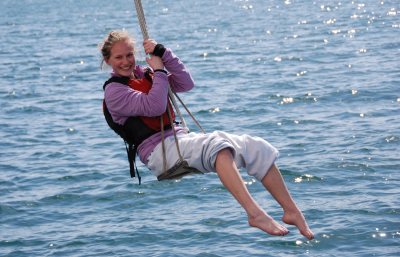 team races Friday and Saturday to improve their fundamental skills. The racing was close with multiple lead changes each race, scores were not kept and the teams enjoyed a BBQ lunch together at the OIYC picnic shelter after the racing Saturday.

The Orcas team was invited onboard the Schooner Alcyone for a Saturday afternoon sail on West Sound where they learned how to pull the anchor,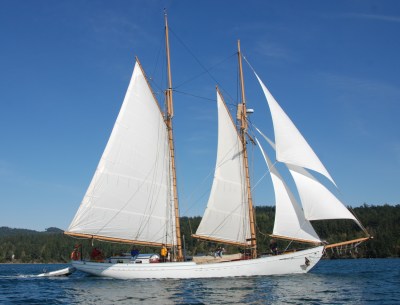 hoists sails, coil line, climb the rigging and enjoy a rope swing.


Looking ahead the team travels to Central Kitsap on April 14&15 and then to Port Townsend April 20 & 21.
---
Islands Cup Regatta
Hosted by Sail Orcas and the Orcas Island Yacht Club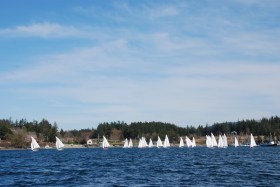 Twenty-three teams took to the waters of West Sound March 24 & 25 competing in the Annual Islands Cup Regatta hosted this year by Sail Orcas and the Orcas Island Yacht Club. Spring arrived on Friday and stayed the whole weekend with temperatures reaching the mid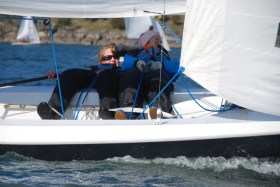 fifties in the afternoons, putting smiles on the faces of the one hundred and twenty competitors. Moderate Northeast winds,made for great sailing, with the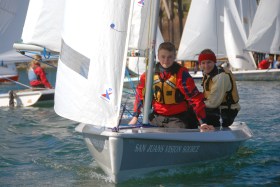 hard working race committee able to run twenty races over the weekend. North Kitsap looked very strong taking both first and second overall,with Port Townsend grabbing third. Orcas was able to take 4th in a very competitive fleet.




Complete results can be found here: Results


Next up for the Orcas team is the Sail Sandpoint Team Race Regatta March 31 & April 1st
---
NWISA WWU Lakewood Regatta Results
March 17, 2012
Orcas took third at Lakewood yesterday...see regatta reoprt and results below I think we did very well for the first time sailing FJ's this spring...we have room for improvement but this is a good start. BT
Thank you to everyone who came up to Bellingham Saturday for the WWU Lakewood Regatta. Hope everyone had a good time. Here are some pictures from the weekend which nicely show the weather changes during the day and our regatta rainbow: WWU Photos

Regatta Recap:
WWU Lakewood Regatta
March 17, 2012
Bellingham, WA - WWU Lakewood
Saturday: Racers were welcomed to Lakewood with cold 34 degree temps, snowing, and glassy waters. Light winds started to fill around 11am and 18 FJs and 11 Alphas began racing. Winds, and temperatures built throughout the day to around 8 knots. 4 races were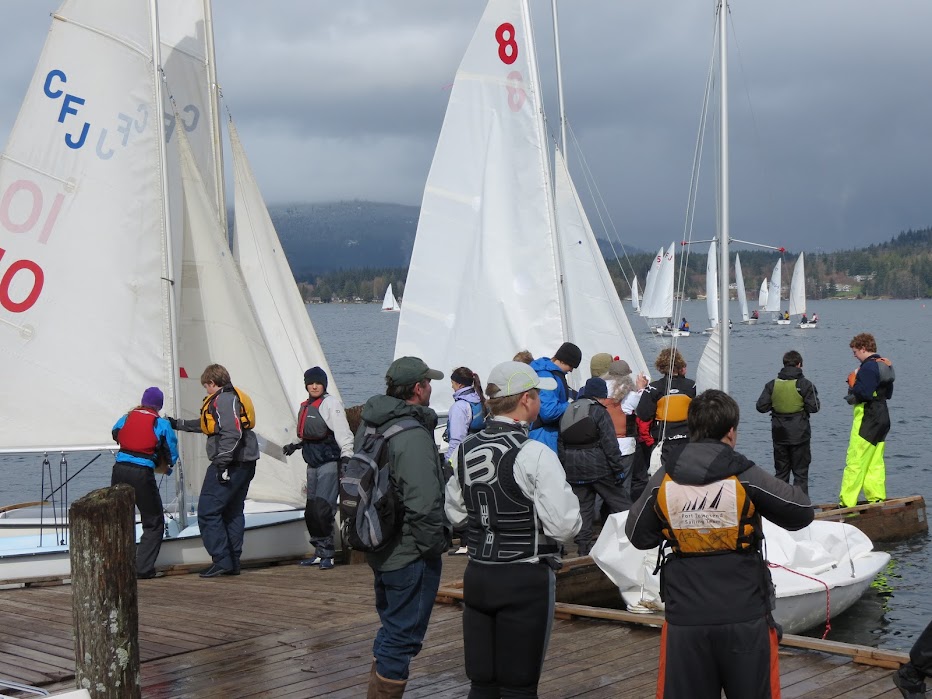 completed in each division of each fleet. Sun and rainbows fell on the race course by the end of the day. Racing finished around 2:45pm. Thanks to the WWU Sailing Team for hosting the regatta and running races with the help of the Whatcom Sailing high school team parents for providing a great lunch. Congratulations to the North Kitsap team for finishing first in the FJ fleet, and the Bellingham team for finishing first in the Alpha fleet. Full results can be found at www.nwisa.org and the FJ fleet results here WWU FJ results
See everyone next weekend at Orcas Island.
Scott Wilson
---
Orcas High School sailing team takes second at Seattle Yacht Club regatta
The Orcas High School Sailing Team has taken to the water for spring practices this past week...regardless of the winter like weather. Ten sailors from the team traveled to the the annual kick-off regatta at Seattle Yacht Club on Saturday March third, and captured second place in the Gold fleet.
After winning all three District championships in 2011 and then graduating 11 seniors, the team has shown it is ready to be a force on the water in 2012.
Regatta report from the SYC
122 Sailors from over 25 High Schools competed in the 2012 Kick Off Regatta at SYC. The wind, sunshine, and warm temperatures made for a great day of sailing and spectating. Portage Bay is known for its puffy and shifty conditions, and this day proved to be no different. With puffs in the high teens coming through the course, sailors really had to on their toes and react to the tricky conditions.
The racing was tight and with the conditions it was tough to hold a lead. Everyone saw how getting a clean start and getting to the first shift really paid off. Port Townsend Team 2 had consistent finishes keeping them in the lead throughout the day. Orcas Team 1 and Interlake were not too far behind in 2nd and 3rd, respectively. All teams did a great job, it was not an easy day on the race course.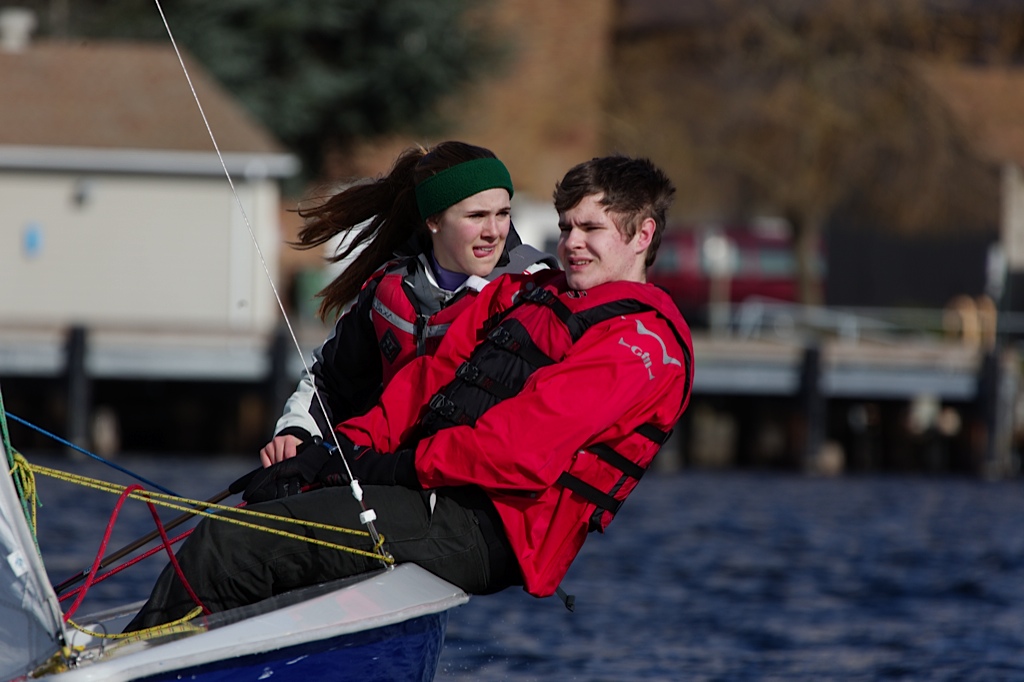 Orcas skipper Jules Mann and crew Chris Babcock
There were some capsizes and a couple minor collisions but most of the excitement was in the racing. It was great to have a few triangle course sailed, it brought the fleet past the spectators giving everyone a chance to cheer on their teammates... And witness some chaos at the jibe mark.
With the weather and the sailing everyone had a smile on. It was a great day to start off the season!
---
Orcas Jr Sailors Rock at Vancouver Lake Regatta!
Six Orcas Island junior sailors ages 9-12 took to the road and traveled to their first Northwest Youth Racing Circuit Regatta, the Vancouver Lake Regatta promoted by the Willamette Sailing Club June25&26 on Vancouver Lake. To prepare for their first regatta the sailors have been practicing twice a week this past month on West Sound under the watchful eye of Coach Ian Wareham. The practicing paid off; nine races were competed in the 14 boat Open Bic class over the two day event, with Orcas placing 5 sailors in the top six. Even more impressive was the fact that these young kids were on the water sailing in the early morning before the racing and they were on the water after racing, sailing until the sun went down. All these sailors took sailing lessons last summer from the Sail Orcas junior lesson program, and it is very exciting to see them apply what they have learned on the race course.
---