Send The Orcas Vikings to Nationals
HELP PLEASE! On May 6th & 7th the Orcas High School Sailing Team won the NWISA Team Race competition at Sandpoint in Seattle. See NWISA Results. So now in less than three weeks they need to be in Norfolk, VA to represent the Pacific Northwest in the Baker ISSA Team Race Championships. See ISSA Baker Cup.
Orcas hasn't won this opportunity since 2011 and we didn't anticipate this. There is so little time to prepare. The families didn't budget for the cost of the late notice travel or hotel bills and they need our help.
Please support the Orcas High School Sailing Team with your generous donation as they head to the 2017 ISSA Team Race National Championship Regatta in Norfolk, VA on May 26-28!
---
NWISA Team Race Champions!
Orcas High School Sailing Team Goes To Nationals
It Happened May 5-7 at Sail Sandpoint in Seattle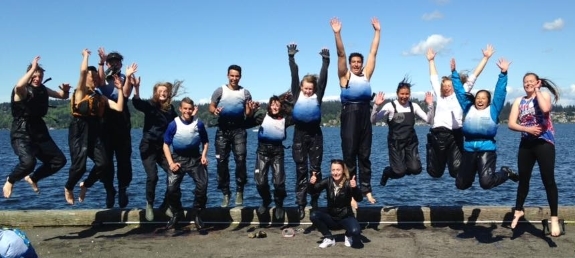 The Orcas High School Sailing Team travelled May 5-7 to Sail Sandpoint in Seattle, to compete in the NWISA Team Race District Championships. The team took to the water Friday afternoon for a 4 hour wet and windy and very productive practice session with other NWISA teams. Saturday morning brought very light shifty SE winds and only 3 of the 62 scheduled races had been completed by 2pm. Spring's sunny weather finally showed up in the afternoon and a 6-9 knot northerly breeze filled the digital N race course. Forty-two 3 on 3 team races were completed Saturday, with the racing going very late in the evening. All the teams were exhausted and Orcas was very happy to have grabbed the lead with a 10 win and 1 loss record.
Sunday brought shifty 3-6 knot north winds, with lots of tight racing. Two complete round- robins were completed by 3pm with Orcas and Olympia tied for first with identical 12-2 records. The final 4 Gold round robin would decide the regatta. Bainbridge handed Olympia a loss and Orcas grabbed a win against North Kitsap, to go up by one win in the first flight. In flight two, Olympia beat North Kitsap and Orcas lost against Bainbridge, tying the two teams again with 13-3 records. After two full days of racing, and 61 races completed the regatta would be decided on the final race, number 62 Orcas versus Olympia. Orcas took to the offense early with some aggressive pre-start tailing, which helped Orcas get off the start line and into a winning combination early on the first leg of the course .The team was able to sail fast and extend into a solid 1-2 winning combination for a decisive race win, making them NWISA District Champions. "The team worked hard and stayed focused, I am very proud of their accomplishment" said Coach Hannah Tuson-Turner. "It was a whole team effort of both Varsity and JV to put us into position to compete at this level and now a great opportunity for the team to compete against the 12 best teams in the nation in Norfolk, VA May 26-28 for the Baker Trophy National Championship".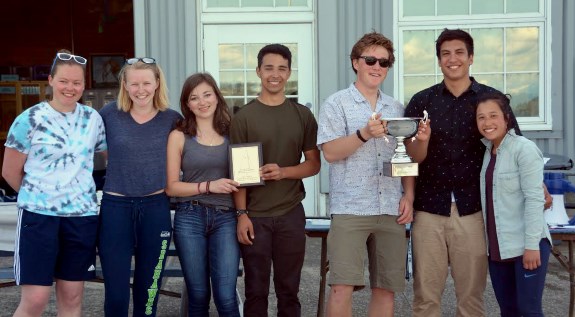 ---
NWISSA Doublehanded Championships
Orcas Island WA April 29 &30th
Thirty-nine teams and 180 high school sailors from around the Northwest participated in the 2017 NWISA Doublehanded Championships on Orcas Island April 29 &30th. Sixteen races we completed in the Varsity fleet over the two days. The wind and weather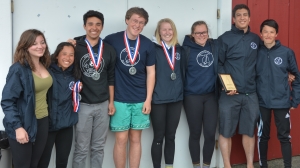 were a mixed bag over the course of the two day regatta. Pouring rain and cold light winds on Saturday made for a very long day on the water for the sailors. Sunday the sun came out and the breeze filled in after lunch giving the sailors some good racing conditions.
The Charles Wright Academy beat out Orcas for the regatta win with Bainbridge Island placing third overall in the regatta.
In the twenty boats JV fleet Orcas teams placed 5th and 18th for the regatta. Up next on the spring schedule the team travels to Sail Sandpoint for Team Race champs on May 5&6th.
---
;
Busy April for Sailing Team
Annual Islands Cup April 8 & 9 th at Oak Harbor.
The Orcas High School Sailing Team has been very busy traveling to regattas this spring! Fifteen sailors traveled to the Annual Islands Cup Regatta April 8 & 9 th at Oak Harbor. Blustery SE winds made for an exciting two days of competitive racing. With time running out Sunday afternoon, five teams were only separated by a few points; the last race which was number 22 for the regatta would decide the winner. The Orcas team sailed very well but finished 1 point out of first and placed 3rd over-all for the regatta in the gold fleet. Gold Results The Orcas silver teams sailed very well also grabbing 2nd and 5th in the silver fleet. Silver Results

Regional NWIS Regatta April 22nd Bellingham
April 22nd the team traveled to Fairhaven in Bellingham for a long day of 3 on 3 team racing on Bellingham Bay. The team sailed great and won the regional regatta with a 10 win & 1 loss record. NWISA Regional Results

Regional District Championships April 29th & 30th on Orcas
Looking ahead the team is excited to have the NWISA District Fleet Championships on Orcas in April hosted by the Orcas Island Yacht Club and Team Parents at the OIYC West Sound facility. So much work to be done by local volunteers to accommodate nearly 200 visiting sailors.
Notice of Race
---
Orcas Sailors Are On A Roll!
Kitsap 10% regatta March 18-19.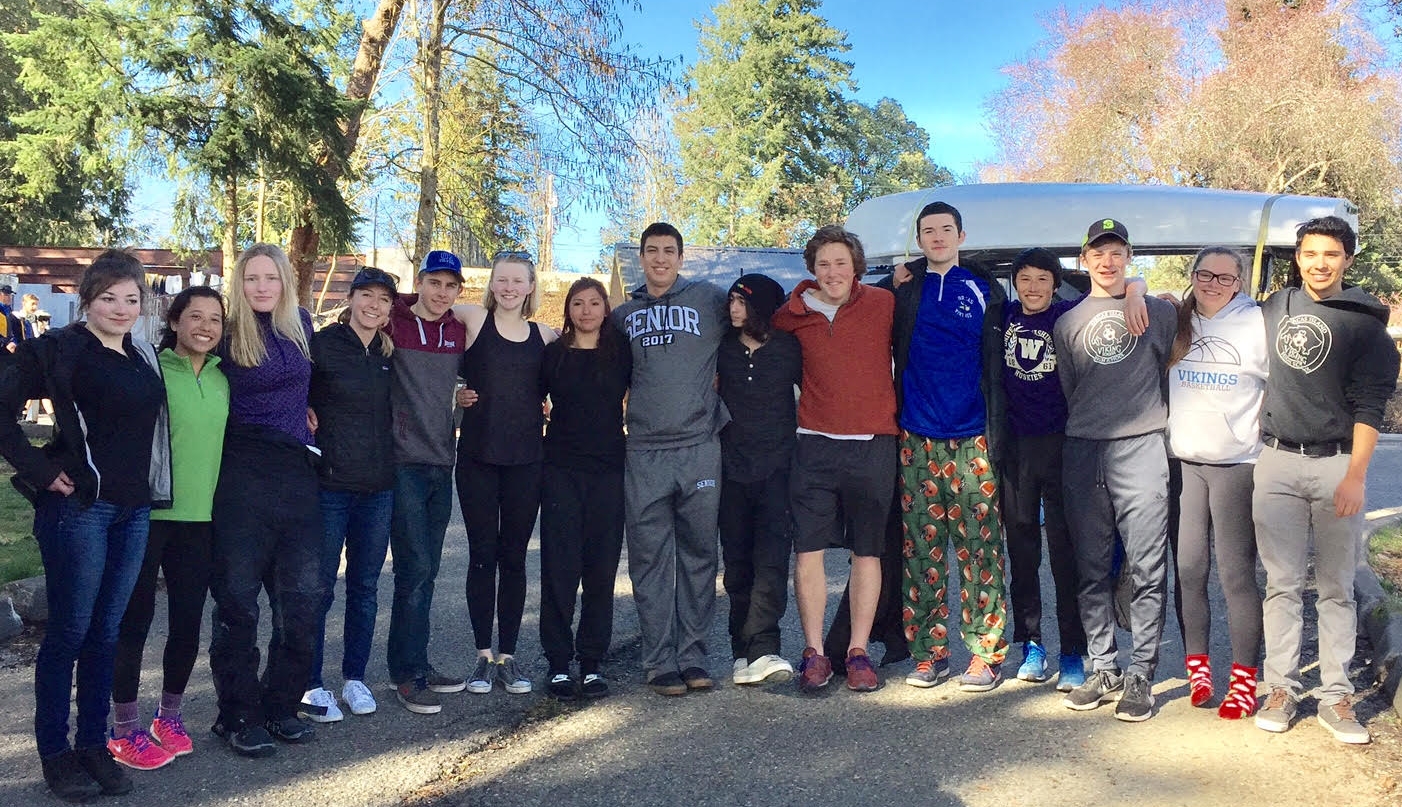 Fourteen Orcas sailors from the high school team travelled to Eagle Harbor on Bainbridge Island to compete in the Kitsap 10% regatta March 18-19. This two day district wide regatta counts as 10% of the team's season score, and helps determine what team will move on out of district to Nationals. Rain and light winds Saturday morning greeted the 150 competitors from 33 teams as boats were rigged and launched, by the time the first start gun sounded the rain had slacked and a light SE wind had filled the race course on Eagle Harbor. All the Orcas teams stayed focused and battled hard in the light and very shifty breezes in the first 4 races. The sun peaked out after lunch and the breezed shifted 180 degrees to the NW and built to a steady 15-18 with gusts near 20mph, and the Orcas team excelled in the conditions.
Sunday brought clear skies and light winds, the Varsity team competed in 16 races for the regatta, winning the last two securing the regatta win. Twelve races were completed by the JV team, which came from behind winning 3 out of the last 4 races, getting them the regatta win as well.
Complete scores can be found at: Kitsap - Varsity Kitsap - JV
---
Sail Sandpoint - Orcas Team Takes Gold
NWISA Combined Division Regatta March 11th & 12th
Over Two hundred sailors representing forty teams from the Northwest Interscholastic Sailing Association (NWISA) schools descended on Sail Sandpoint March 11&12 to compete at the NWISA combined division regatta. The teams were seeded into Gold, Silver and Bronze divisions based on their regional scores from March 4th.
The Orcas team, travelled to Sail Sandpoint with 13 sailors fielding two teams in the gold fleet and one team in the silver fleet. Rain, no wind and more rain greeted the team Saturday morning and after one light air race, the race committee postponed the racing and sent the teams to shore to wait for better conditions. The forecasted SW breeze finally filled in at 2:30, the Orcas sailors all enjoyed the steady winds. They all raced until the light faded, finally getting off the water around 6pm making for a long day. Orcas had positioned themselves well and after one day of racing the teams were 1st and 10th in gold fleet and 3rd in silver fleet. Sunday brought warmer weather, not much rain and light winds. The Orcas teams battled hard all day, with the Vikings 1 team holding on for the regatta win in gold fleet, and the Vikings 2 boat placing 8th in the gold fleet. In silver fleet the Viking team finished strong placing 3rd. The Team travels to Bainbridge Island next weekend for two days of racing on Eagle Harbor. Complete results from SSP Regatta can be found here: Gold Silver Bronze
---
NWISA North Regionals
Orcas Vikings have a great regatta
March 4th, 2017 in Anacortes
Spring sports got underway this past week on Orcas, including the Sailing team taking to the waters of West Sound for practices. The weather has been anything but spring like, snow on the ground and temperatures hovering in the 30's have made practices a challenge , but as the saying goes "island kids are tough" so the team practiced all week anyway.
Saturday March 4th the team travelled to North Regionals in Anacortes to kick off their "Spring Season" and was greeted with snow, sleet and cold, cold winds. "The team layered up with warm clothing and rallied to show immense physical and mental toughness in very trying conditions* said Coach Hannah Tuson-Turner. The results did not reflect the temperatures as the two Orcas boats placed first and second out of 14 boats in the first race, setting the tone for the day and battling between themselves for the top spot. Sixteen races were completed before the 4:30 pm stop time was reached, with Orcas Vikings 2, edging out Orcas Vikings 1 for the regatta win. "This win puts the Orcas team into a really solid position going into the Combined Division Regatta at Sail Sand point next weekend" said Tuson-Turner and "I am very excited to see the team working hard at improving their skills this spring!"
Complete results can be found at NWISA Results
---
Orcas Island Yacht Club
Ray Jarecki Youth Regatta
July 30th & 31st
OIYC Picnic Shelter - West Sound
We had some great sailing and a lot of fun on the weekend. Many thanks to all those who came to enjoy Orcas for a couple of days and to the many volunteers who worked to pull this off. The Orcas Island Yacht Club and Sail Orcas did a wonderful job of making the best of the wind we were given to pull off 10 great races for a super group of kids. Special thanks go to Burke Thomas who as usual put in a lot of time on the planning, organizing, and executing.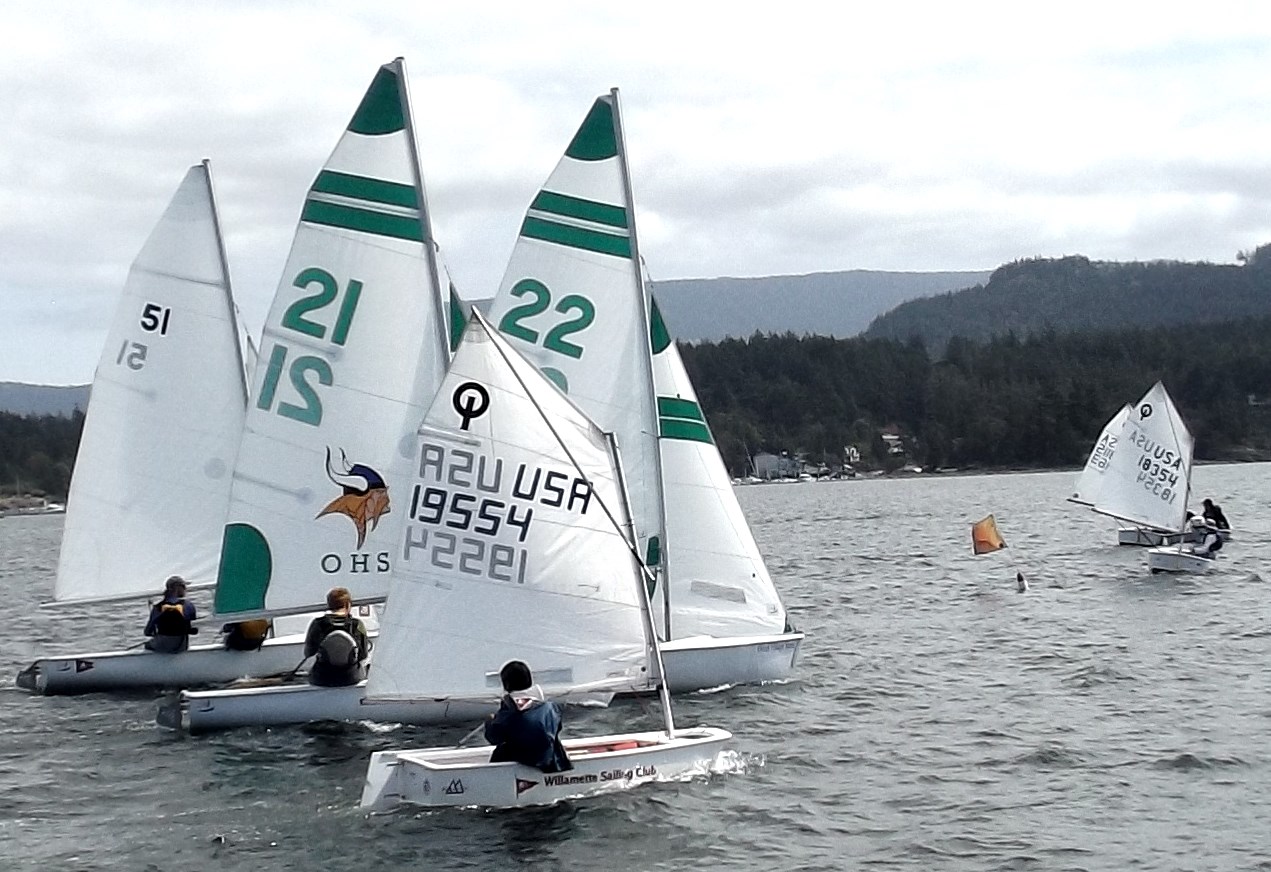 ---
Sail Orcas News
Junior Sailing starts June 20th
For the past 23 years Orcas youth ages 8-15 have been introduced to the sport of sailing through this popular program. Sail Orcas is happy to present this summer's program which focuses on teaching sailing skills in a safe, fun environment. With a variety of boats including Vanguard Prams, FJs, Lasers, Optis, and Bics, the program can accommodate beginners and experienced sailors wanting to expand their skills. We offer the perfect venue on the protected waters of Westsound on Orcas Island. Tuition this year will be $120 but early enrollees up to May 31 will have a discounted tuition of $95.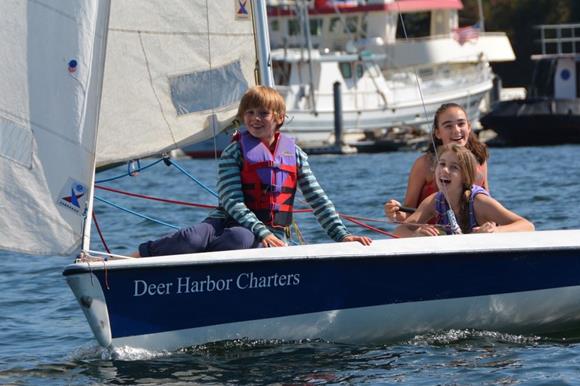 Hannah Tuson-Turner — Adult Sailing Instructor for 2016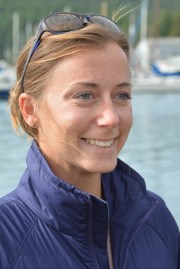 If you're looking for a little adventure this summer you should look into our adult sailing lessons on our San Juan 21 on the protected waters of West Sound on Orcas.
This class is an eight hour introduction to sailing course with both on land and on-the-water instruction. We will work on rigging, boat handling, terminology, knots, docking, anchoring, general comfort on the water and other basic seamanship skills. The class is taught on a San Juan 21 in Westsound on Orcas Island. More advanced training and ongoing lessons to work on further skill development are available by request.
Plan on having fun this summer. Get out on the water in a sailboat!!!
Annual Fund Raising Dinner June 25th
Please join us for an afternoon sail at the OIYC facilities on West Sound, browse our marine yard sale, and then join us for a salmon dinner at the picnic shelter. We expect to have many silent auction items that you might find at a great value.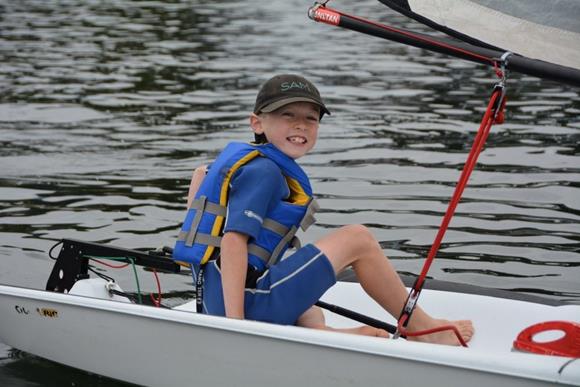 ---
Orcas High School Sailing Team strikes again this week, boasting winning results and big grins from Olympia Yacht Club "It's the Water" Regatta in Budd Inlet, Washington over weekend. Saturday morning began with light, variable and chilly winds that warmed and settled to a 5-7 knot northwesterly by the afternoon. A clean, clear-air start on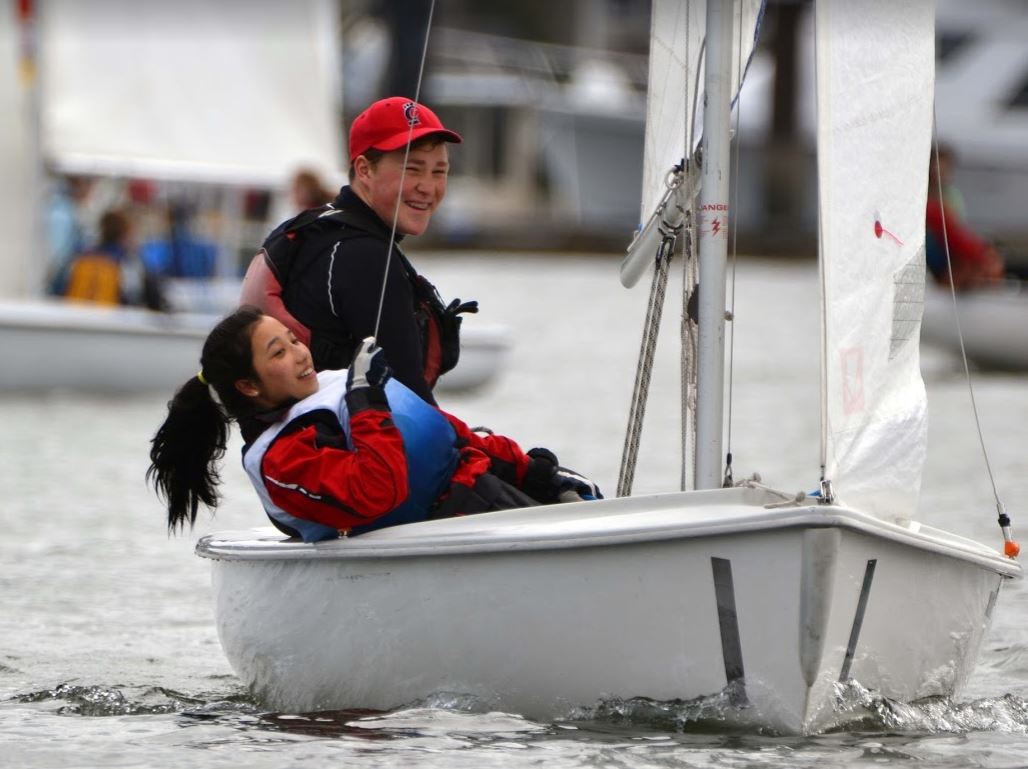 the crowded line followed by fast, in-phase control of the fleet proved to be the winning strategy. Out of the 7 total races sailed, Orcas recorded 4 bullets!
Orcas fielded 3 boats, each with an A and B division in a fleet of 36 boats and took home an impressive 1st, 6th and 7th overall. Long-time rivals, Bainbridge High School was the only other team with two boats in the top ten overall. Yet, Orcas sailors had more solid and consistent showings across both divisions than any other team. As a coach, I'm excited about the team's focus, positive attitudes and their willingness to learn from every move. Way to go, Vikings!
Looking ahead to this Saturday, March 26th, please come out to support our team as we host the Annual Orcas Cup at the Orcas Island Yacht Club in Westsound. Visiting teams arrive Friday and Saturday morning from Bellingham and the North Kitsap area. With breeze, races will run from around 10am until 3pm. OIYC is an exceptional venue to spectate from so please, bring a chair, watch some great racing and cheer on the team.
---
Twelve members of the Orcas High School Sailing Team traveled to Oak Harbor on Saturday March 5th to compete against eighteen teams, at the NWISA North Regionals. This was the first regatta of the spring for the team and head coach Hannah Tuson-Turner. The North Regional was a qualifying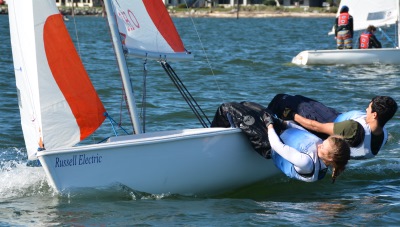 regatta for the Sail Sand Point regatta taking place next weekend, with the top nine teams qualifying for the gold division.
Mild temperatures, sunny skies and a shifty south- east breezes, made for a great day of racing. The Vikings started off the first race strong with first and fourth place finishes in A fleet, setting a pace for the day that the big Woodinville and Sehome teams could not match. Orcas Vikings 1 and Vikings 2 continued to battle each other for the regatta win the rest of the day. As the sun slid towards the horizon, the breeze dropped away and Orcas 1 edged Orcas 2 for the win with Woodinville 1 placing 3rd.
"This was a whole team effort in the win," said Coach Hannah Tuson-Turner, "we are working hard at practices and I am looking forward to a fun spring season of racing." The team travels to Sail Sand Point to compete March 12th and 13th. Spectator viewing from the pier at SSP is fantastic, so come on by and cheer the team on. Complete North Regional results can be found at Results.
---
What a beautiful first week on the water for the high school sailing team! Spring high school sailing season is in full swing now with nearly 20 sailors on the roster and we're looking strong. We've just finished off our first week of practices and are excited about the group enthusiasm! The experienced racers are making really solid efforts to bring the newbies up to speed and the go-get-em positive attitudes are really fun to see.
This weekend, the team will travel to our first regatta of high school sailing season, held in Oak Harbor. This event will qualify the team to compete in either gold or silver fleet for some of the spring events so, wish us luck! We'll be sure to share pictures and updates online and again here next month.
We want to thank everyone at the West Sound Marina for preparing the chase boats for the season and also extend our gratitude to Ben Luna and Ian Wherham for driving those chase boats at practice this week. Thanks also to Susan Stoltz, who rallied with Burke and I to prepare team travel logistics and communicate with families. Also, Burke managed to get all the wooden tillers sanded and varnished, as well as making sure the facility was ready for sailors. It really does take a village, so thanks a lot for everyone's hard work. We also want to say thanks to Mike Powell for his excellent presentation this past Saturday. (See below!) It was truly inspiring and raised some money for the youth program. Look for news in the next few weeks with Summer Junior Sailing Camp and Adult Class information!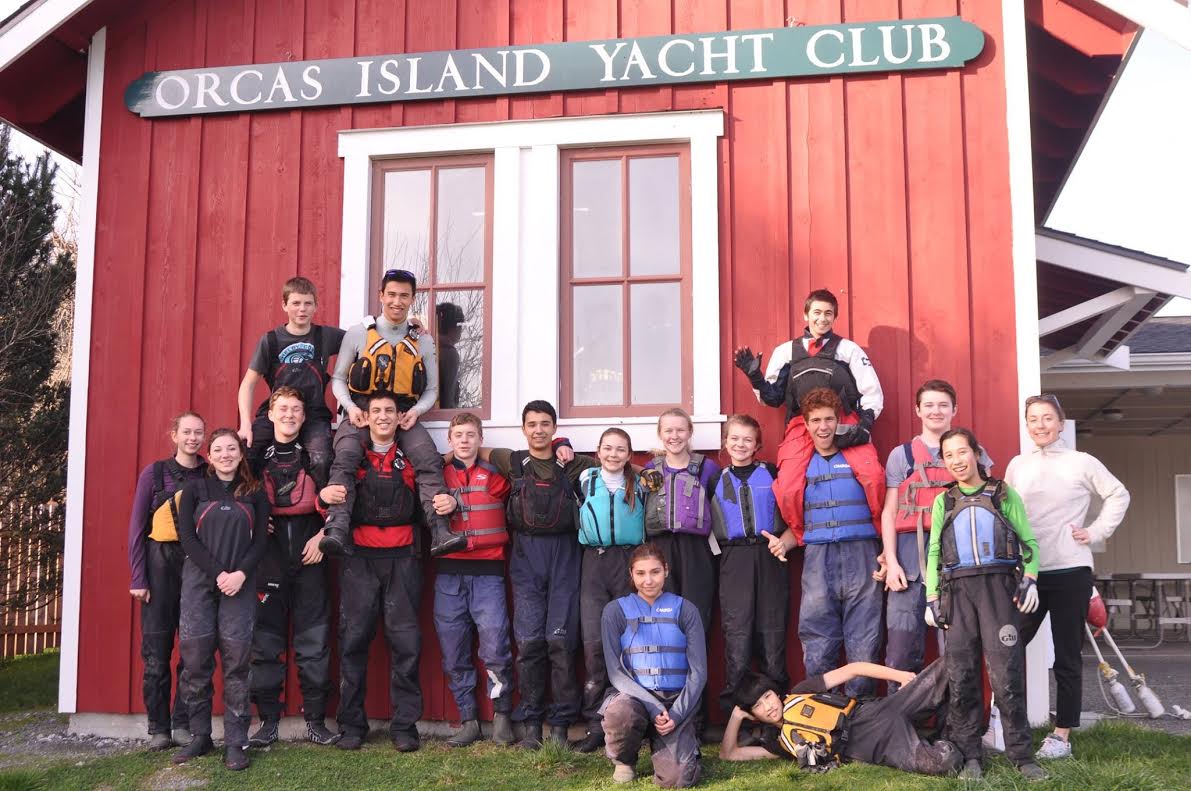 ---
We invite you to join us at the Westsound Community Center on Saturday, February 27th at 7pm to hear professional photographer Mike Powell talk about his adventure of a lifetime.
Mike tells us "in 2011 I headed off for an epic adventure aboard UHURU a 65' Oyster with the owner, my brother and 3 others to sail from the Falklands Islands to the Antarctic peninsula, around Cape Horn, and up into Patagonia. Like many in the past from my home land of England, heading to the Southern Ocean was my first sailing adventure but I had a choice and it lead to a passion for the sport of sailing."
Mike is an award winning professional sports and action photographer. He's travelled the world on assignment and considered this trip to be the finest adventure of his life.
Calling Bellingham, WA his home he now races in various classes in the PNW and the UK from Lasers/505's to big boat distance racing.
Donations will be accepted at the door for the benefit of youth sailing programs on Orcas Island.
Next Photo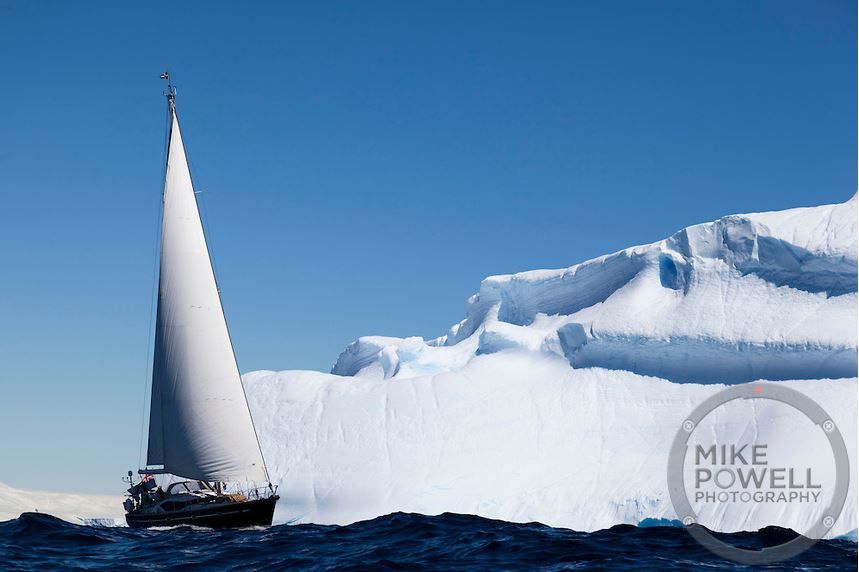 ---
This holiday season, you can give gifts that make a difference right here at home. OICF offers this online gift catalog to benefit important programs in our community. Browse the catalog below, pick out gift opportunities, and give gifts in honor of your friends and loved-ones. Donate any amount of $10 or more. You receive a tax deduction and your friend or loved one receives notice of your generous gift in their name. Your gift will make a real difference for our island community. Questions? Contact OICF at 360-376-6423 or info@oicf.us.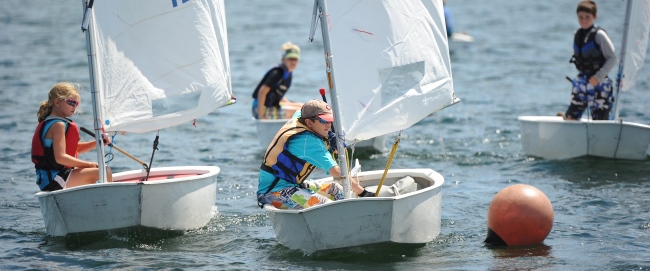 Sail Orcas is included in the OICF catalog this year. We're asking for donations to buy one more Opti Pram for our summer Jr. Sailing program. The boats in this photo are Optis.
---
The next few weeks will mark the close of the first official fall season for Orcas High School Sailing ever! Each practice boasted attendance of 8-10 sailors, twice a week since the beginning of September. Sailors travelled nearly every weekend to compete at favorite NW venues including Sail Sand Point for Oktoberfest and Cascadia Cup, Port Madison for the annual JAM regatta, Shilshole for Junior Olympics and the Gorge for the Single-handed regional Cressy qualifier.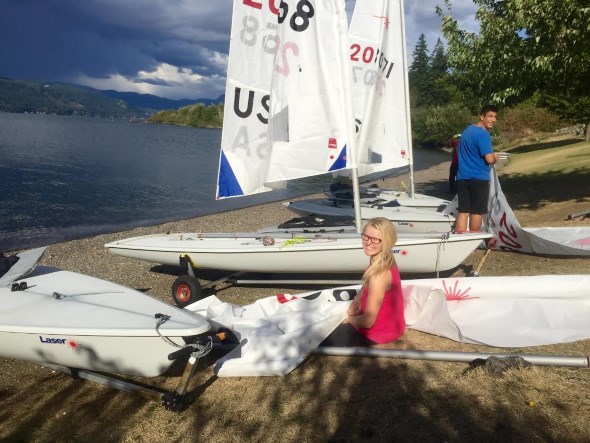 The most recent event was Cascadia Cup at Sail Sand Point in Seattle. Cascadia Cup draws both college and high school teams each year which is great exposure for our team to the broader sailing community. The conditions on Saturday were stormy and wild, gusting to nearly 30 knots at times and allowing for only a few races in each division. Sunday brought light to moderate oscillating southerlies and allowed for seven races to be scored total for the weekend. Our sailors enjoyed the heavy breeze but found the directional wind shifts challenging to keep track of. They worked hard though, to maximize speed off the starting line and make smart decisions which landed Vikings team 1 in 5th and Vikings team 2 in 11th out of 23 teams. We're extremely proud of the Viking spirit over the weekend and of these finishes over-all. Looking forward to pushing hard during more fleet racing in the spring.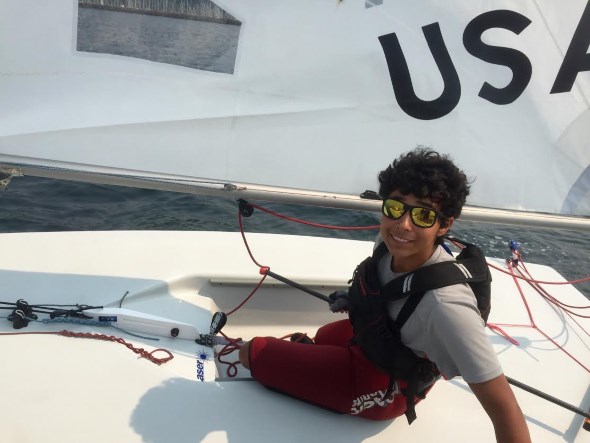 We want to extend a big thank you to the families of the sailors who've traveled with the team and supported by driving, chaperoning, hosting, feeding and/or cheering on the team! It makes such a big difference to have a professional pit crew with the sailors when we're on foreign turf. Additionally, we send out a big thanks to Ben Luna for helping at practices on Tuesdays all fall. You're always there with a smile on your face and ready to assist in any way. It makes a big difference!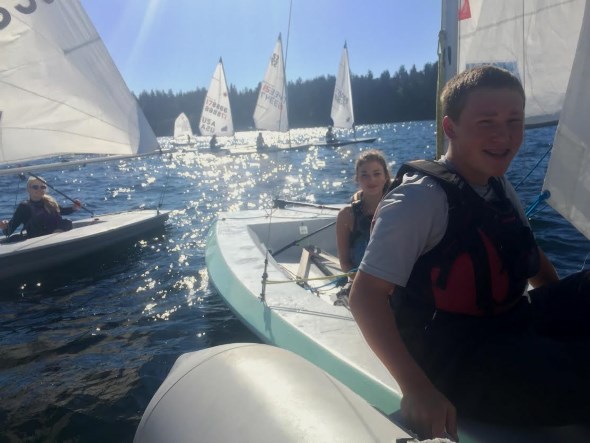 Looking ahead to the 24th and 25th of October, Sail Orcas and Orcas Island Yacht Club will host the Trick-or-Treat Team Race Regatta for the last regional high school league event of the season. We're looking for help on the water and on land!
--- Hannah
---
Sail Orcas is pleased to announce that Orcas native Hannah Tuson-Turner has joined the Sail Orcas Board as its new Sailing Director. She will oversee all Sail Orcas sailing programs, including teaching the adult learn-to-sail lessons, coaching the Orcas high school sailing team, serving as the head instructor for the middle school exploratory sailing lessons and supervisor of the summer junior lessons. This fall, we will be able to offer a full high school fall racing program.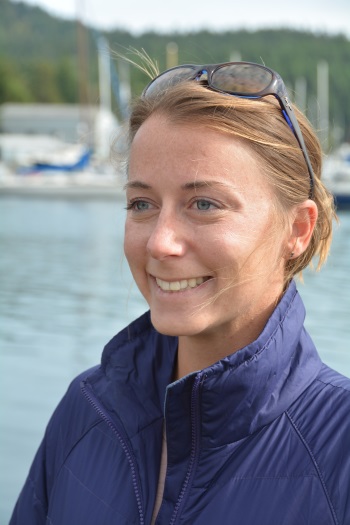 Hannah learned to sail with the Orcas summer junior lesson program when she was eight. She was a founding member of the 2002 OIHS sailing team, went on to sail for the University of Hawaii, and is currently a Level 3 US Sailing professional coach. After moving back to Orcas this summer, Hannah's presence was immediately felt as she was the guest head coach for a week-long advanced racing clinic, coaching 22 sailors from around the Pacific Northwest.
For the past year Hannah was the Junior Sailing Program Director for the Encinal Yacht Club in Alemeda, CA, overseeing extensive year-long racing and learn-to-sail programs. Prior to Encinal she spent three years as Director of the Half Moon Bay Yacht Club's junior program, where she created community year-round learn-to-sail programs and a high school team.
Hannah's involvement with Sail Orcas will help us to create sustainable programs for the next generations of Orcas sailors. Welcome back to Orcas, Hannah!
---
The first of hopefully many more July youth regattas in honor of the founder of Jr. Sailing on Orcas - Ray Jarecki - happened this weekend. The event had an excellent turn out and the weather was fantastic for sailing. We had 8 to 16 kts of breeze on Saturday and 4 to 8 kts on Sunday and we were able to get off at least 10 races in all five fleets and even squeezed in 12 races in the Opti division. Westsound showed off it's nature of being a perfect venue for youth sailing this weekend. Many thanks go to the dozens of volunteers that helped to make it a great weekend of sail boat racing. Burke Thomas got some really nice photos of the sailors that can be found at the NWISA Facebook page at: PHOTOS
Results: Laser 4.7 Laser Full Laser Radial Opti Flying Junior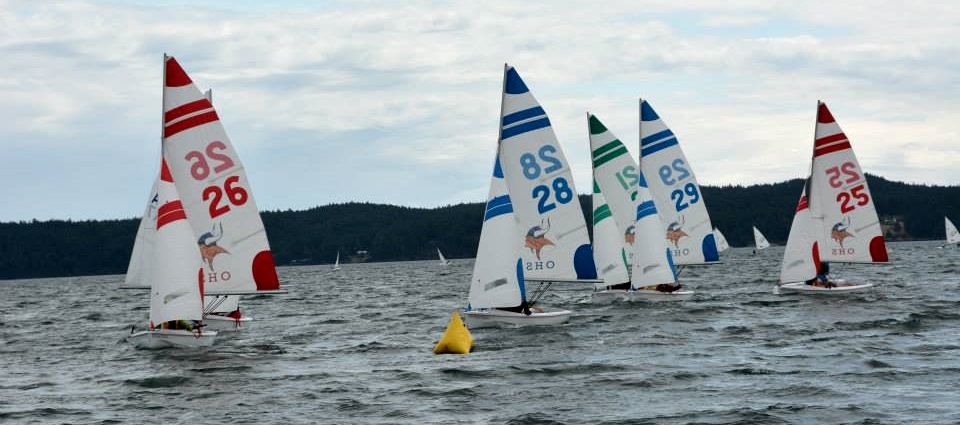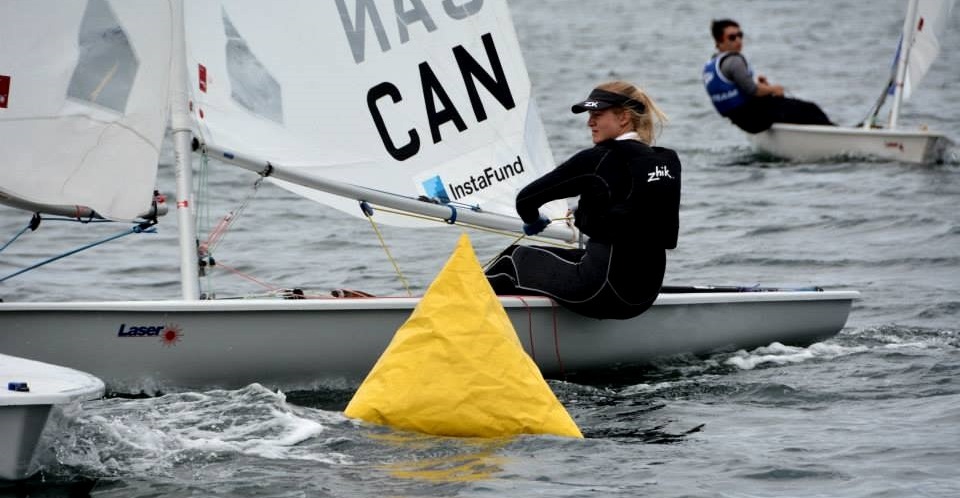 ---
The Sail Orcas Summer Dinner "was a huge success" says Burke Thomas the event organiser. "We served meals to a big crowed over the course of the afternoon and evening, Chris White had gigantic turnout for the marine equipment yard sale, the silent auction was well attended and we had a number of souls out for an adventure on Westsound sail boat ride. It was a great community event and we really need to thank the many volunteers who worked to make it a big success."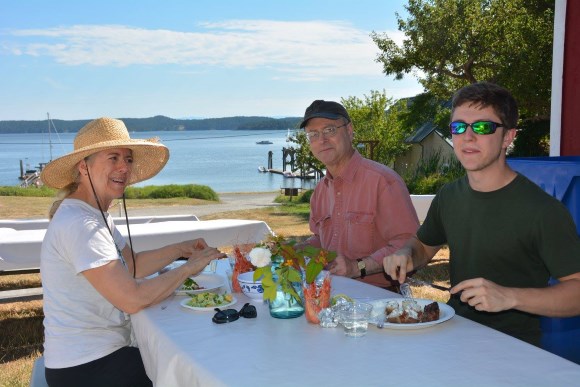 ---
Nine members of the Orcas High School Sailing Team competed at the Northwest Interscholastic Sailing Associations Port Townsend Open Regatta on Saturday May 9th. This was the last NWISA regatta of the spring and Mother Nature came through with a moderate NE wind and summer like temperatures. The regatta was sailed right off the city waterfront, with historic old town and the fantastic Northwest Marine Center as the backdrop. The twenty boat fleet got started racing at 10:30 am.Fourteen races were completed by 5:30 pm stop time. Orcas had a solid first set of races, combining both good boat speed and course tactics putting them at the top of the standings where the team battled Port Townsend and Friday Harbor the rest of the day for first place, strong finishes in the last four races ensured the win.
The Team competed very well at the last three weekend regattas leading up to the Port Townsend open, giving the sailors the confidence needed to grab the gold this weekend. For complete Orcas spring regatta results including the Port Townsend Open go to https://scores.hssailing.org/schools/orcas/s15/
The team will continue to practice the rest of the school year on West Sound preparing for the summer North West Youth Racing Circuit, which includes a two day regatta on West Sound July 25&26. https://www.nwyouthsailing.org/nwyrc.html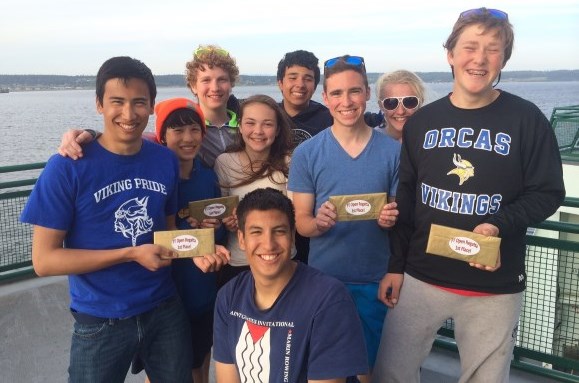 Wylie Kau, Ronan Kau, McCabe Webb, Jadyn Kopp, Dominick Wareham, William Coe,
Maggie Toombs, Axel Greening and Michael Chesher (kneeling)
---
For the past 22 years Orcas youth ages 8-15 have been introduced to the sport of sailing through this popular program. Sail Orcas is happy to present this summer program which focuses on teaching sailing skills in a safe, fun environment. With a variety of boats including Vanguard Prams, FJs, Lasers, Optis, and Bics, the program can accommodate beginners and experienced sailors wanting to expand their skills. We offer the perfect venue on the protected waters of Westsound on Orcas Island. Tuition this year will be $110 but early enrollers up to May 31 will get a discounted tuition of $95.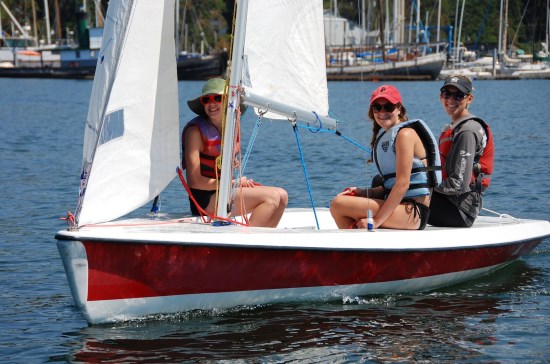 ---
The Orcas High School sailing team has had away regatta madness this March, travelling and competing away from home every weekend in March. This adds up to 42 NWISA district races that the team has raced in, compiling well over 40 hours of on-water tiller time at those regattas. All the hard work is starting to pay off. The team seeded all three boats into the gold division at the Sail Sand Point combined division regatta on March 21&22 and at the end of two long days of racing, two of the Orcas teams finished in the top ten overall. The team carried that momentum from SSP into the final NWISA March Regatta at the Mt Baker Open on Saturday March 28th, where the strong shifty winds played into their sailing strengths. Twelve races were completed in the 29 boat fleet with the Orcas teams placing 4th, 5th and 10th overall. Orcas had three teams in the event and there are two divisions/boats per team and each boat has two sailors. Complete regatta results can be found at:
The team will host Friday Harbor on their home waters of West Sound April 4th for the annual Orcas Cup and then will hit the road again for a regatta every weekend through May 15th.
---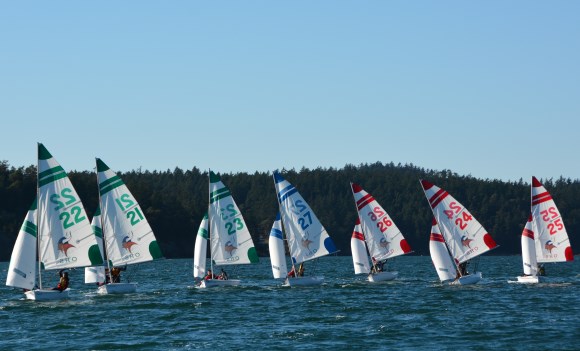 Sail Orcas fund raising for new FJ's in 2015 comes through for our young sailors!
Many thanks to our supporters!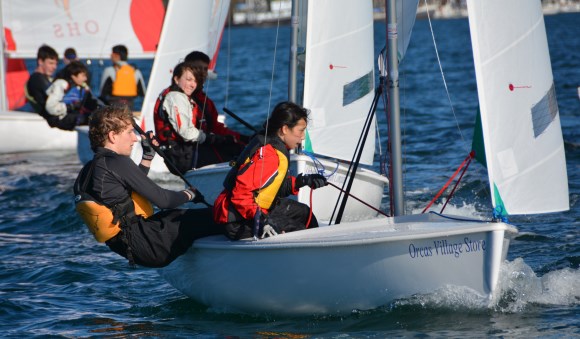 ---