Orcas Island Community Foundation
Supporting Local Orcas Charities
This holiday season, you can give gifts that make a difference right here at home. OICF offers this online catalog to benefit important programs in our community. Browse the catalog below, pick out gift opportunities, and donate any amount of $10 or more. Your gift will make a real difference for our island community.
---
A tail of two regattas
Vikings enjoy great success at NWISA events:
NWISA North Regional and NWISA Women's Qualifier
Four sailors from the Orcas High School Sailing Team; Maggie Toombs, Emma Freedman, Helena Auger and Millie Kau competed in back to back regattas this past weekend and won them both! First up on Saturday, September 30 th was the NWISA North Regionals in Oak Harbor. Twelve teams battled the light and shifty winds all day. Orcas won the last race of the day securing the regatta win. "I was impressed the team's determination and competitive spirit. They worked hard to improve on some specific techniques and improved with each race," said Coach Hannah Tuson-Turner.
Racing moved to Seattle on Sunday, where Sail Sand Point hosted the first NWISA Women's Regatta as a preliminary event to the PCISA Girl's ISSA Invitational on October 21&22 in San Diego. The wind was light when the racing began but built into a gusty northerly, allowing 14 races to be completed. The Orcas team improved their speed and decision-making as they day went on and sailed to a decisive regatta win. "This was the first all-female team to represent Orcas at an event," said Hannah "...and for them to get to experience both the coed fleet and this new women's regatta together as a group was very special. They came together as a team to achieve these results and we're motivated and excited for the next few events this fall. "
Results and scores can be found here:
NWISA Women's Qualifier
NWISA North Regional
---
All Thumbs up for the summer of 2017
Junior Sailing Program!
Record breaking attendance!
Record Breaking FUN!
Summer junior lessons went well this year with excellent staff, new classes and record attendance. Returning this year for his fourth season as an instructor but his first time as the head instructor was Wylie Kau. Wylie graduated from Orcas HS in 2016 and was a captain of the varsity sailing team. His experienced leadership, adventurous spirit, and commitment to the program helped him become a new favorite with our participants. Michael Chesher was the second instructor for both beginning and intermediate sailing and was an excellent addition to the Instructor team. Michael was newly certified as a US Sailing instructor this spring; he demonstrated excellent skills as a safety-boat driver and teacher.
We want to thank our instructors and the other sailors and volunteers who helped to make the season happen, including Jules Mann and all the sailors from the high school team. Betsy Wareham, Burke Thomas, Bob Brunius, and Ben Luna tag-teamed to help field questions, assist with registration, and be a resource for the staff. The programs set a record for attendance this year, filling over 200 class spaces and reaching 140 local and visiting kids. In addition to the "beginning" and "intermediate" classes, we also offered "intro to race" (ages 9+) and "fun on the water" (6-7 yr. olds), which were well received by the community. The series of classes work well together to provide a learning pipeline for sailors. Finally, we want to extend a huge thank you to the OIYC community for hosting another season of youth sailing this summer, and we are already looking forward to next year!
Our 2017 Instructors Hannah Tucson Turner, Wylie Kau, and Michael Chester.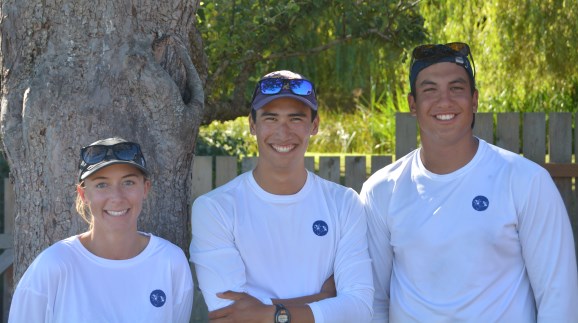 ---
;
Ray Jarecki Youth Regatta
At the OIYC on West Sound
July 15&16
The Third annual Ray Jarecki Youth Regatta Co- hosted by Sail Orcas and OIYC on July 15&16 th was a huge success! The sun and wind made an appearance putting a smile on the faces of the record number of sailors who participated in the regatta. Hannah Tuson-Turner was the PRO for the regatta and did a great job managing the racing with the help of many other volunteers. Orcas high School sailing team parents stepped up again to provide excellent regatta food and shore side support.
Orcas sailors Dominick Wareham and Amelia Kau grabbed first in the CFJ fleet while Maggie Toombs placed third in the laser radial fleet. Complete results can be found here: results We look forward to seeing everyone back here on beautiful Orcas Island next summer.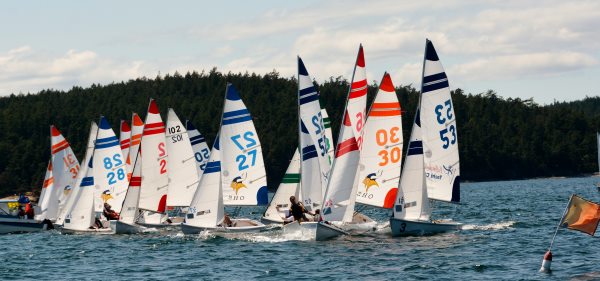 ---
ISSA Team Race Championship
(Baker Trophy)
Host Old Dominion University Norfolk VA
National Championship Regatta May 27-28, 2017
Saturday, May 27:
Twelve teams of top sailors from districts nationwide arrived to beautiful blue skies and moderately warm temperatures on the Elizabeth River at Old Dominion University. The wind was not so favorable, starting the morning Northwesterly, and oscillating back and forth through every compass point except due east. Velocity was equally temperamental ranging seemingly randomly up and down from 0 to 10 mph with gusts to 15 mph. Sailors waited out multiple delays while the committee adjusted the course and waiting for the wind to full in. Twice they were sent ashore for lengthier postponements. Despite the difficult conditions, the committee ran 27 races on a digital N course. Sailors finished racing at 6:30PM, with the threat of lightning looming on the horizon, before retiring to shore for a pig pickin.
Sunday, May 28:
For the second day of racing, teams converged on Old Dominion University to be met with another day of erratic oscillations again covering every compass point except due east. Wind velocity varied unpredictably up and down from 0-15 mph with higher gusts reaching into the lower 20 mph. range. Seas started flat and moved through bumpy to a bit of a chop by the end of racing.

Teams reported at 8:00, and launched at 8:30 only to find themselves in postponement waiting for the breeze to fill in. Shortly after sailing commenced, amidst a concert of constant postponements, course shifts, and outright relocations, the committee chose to go to Baker format "Plan C, Option 1". The remaining 3 races of the first 30 races of the initial round robin were completed constituting complete rounds for each of the two embedded divisions. The teams were seeded into Gold, Silver, and Bronze. Gold Round 1, four out of six races of Gold Round 2, three out of six of the Silver Round, and four out of six races of the Bronze Round were completed before races were abandoned shortly before 2:00 due to an approaching thunderstorm. Because Gold Round 2, Silver Round and Bronze Round were not completed, they were discarded, with only two bronze races retained as a tiebreaker sail-offs. Ranking was determined using the Gold Round finishes for the first four places, and results of the first 30 races for places 4-12 per the SI's, Format Options, and rules.
---
NWISA Team Race Champions!
Orcas High School Sailing Team Goes To Nationals
It Happened May 5-7 at Sail Sandpoint in Seattle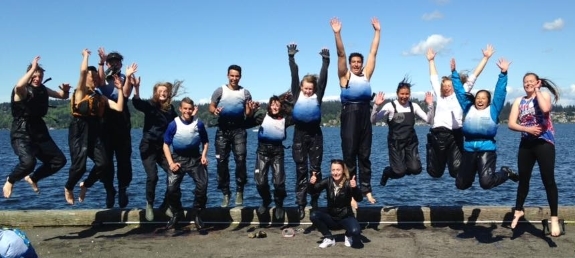 The Orcas High School Sailing Team travelled May 5-7 to Sail Sandpoint in Seattle, to compete in the NWISA Team Race District Championships. The team took to the water Friday afternoon for a 4 hour wet and windy and very productive practice session with other NWISA teams. Saturday morning brought very light shifty SE winds and only 3 of the 62 scheduled races had been completed by 2pm. Spring's sunny weather finally showed up in the afternoon and a 6-9 knot northerly breeze filled the digital N race course. Forty-two 3 on 3 team races were completed Saturday, with the racing going very late in the evening. All the teams were exhausted and Orcas was very happy to have grabbed the lead with a 10 win and 1 loss record.
Sunday brought shifty 3-6 knot north winds, with lots of tight racing. Two complete round- robins were completed by 3pm with Orcas and Olympia tied for first with identical 12-2 records. The final 4 Gold round robin would decide the regatta. Bainbridge handed Olympia a loss and Orcas grabbed a win against North Kitsap, to go up by one win in the first flight. In flight two, Olympia beat North Kitsap and Orcas lost against Bainbridge, tying the two teams again with 13-3 records. After two full days of racing, and 61 races completed the regatta would be decided on the final race, number 62 Orcas versus Olympia. Orcas took to the offense early with some aggressive pre-start tailing, which helped Orcas get off the start line and into a winning combination early on the first leg of the course .The team was able to sail fast and extend into a solid 1-2 winning combination for a decisive race win, making them NWISA District Champions. "The team worked hard and stayed focused, I am very proud of their accomplishment" said Coach Hannah Tuson-Turner. "It was a whole team effort of both Varsity and JV to put us into position to compete at this level and now a great opportunity for the team to compete against the 12 best teams in the nation in Norfolk, VA May 26-28 for the Baker Trophy National Championship".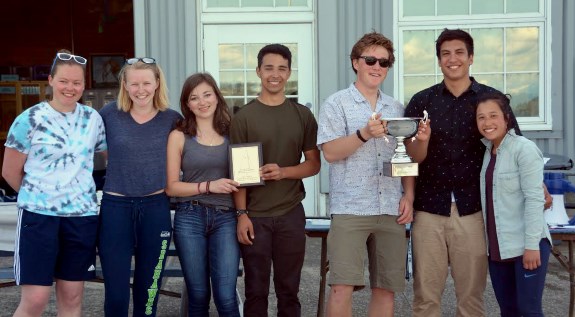 ---
NWISSA Doublehanded Championships
Orcas Island WA April 29 &30th
Thirty-nine teams and 180 high school sailors from around the Northwest participated in the 2017 NWISA Doublehanded Championships on Orcas Island April 29 &30th. Sixteen races we completed in the Varsity fleet over the two days. The wind and weather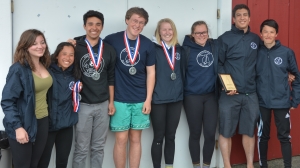 were a mixed bag over the course of the two day regatta. Pouring rain and cold light winds on Saturday made for a very long day on the water for the sailors. Sunday the sun came out and the breeze filled in after lunch giving the sailors some good racing conditions.
The Charles Wright Academy beat out Orcas for the regatta win with Bainbridge Island placing third overall in the regatta.
In the twenty boats JV fleet Orcas teams placed 5th and 18th for the regatta. Up next on the spring schedule the team travels to Sail Sandpoint for Team Race champs on May 5&6th.
---
;
Busy April for Sailing Team
Annual Islands Cup April 8 & 9 th at Oak Harbor.
The Orcas High School Sailing Team has been very busy traveling to regattas this spring! Fifteen sailors traveled to the Annual Islands Cup Regatta April 8 & 9 th at Oak Harbor. Blustery SE winds made for an exciting two days of competitive racing. With time running out Sunday afternoon, five teams were only separated by a few points; the last race which was number 22 for the regatta would decide the winner. The Orcas team sailed very well but finished 1 point out of first and placed 3rd over-all for the regatta in the gold fleet. Gold Results The Orcas silver teams sailed very well also grabbing 2nd and 5th in the silver fleet. Silver Results

Regional NWIS Regatta April 22nd Bellingham
April 22nd the team traveled to Fairhaven in Bellingham for a long day of 3 on 3 team racing on Bellingham Bay. The team sailed great and won the regional regatta with a 10 win & 1 loss record. NWISA Regional Results

Regional District Championships April 29th & 30th on Orcas
Looking ahead the team is excited to have the NWISA District Fleet Championships on Orcas in April hosted by the Orcas Island Yacht Club and Team Parents at the OIYC West Sound facility. So much work to be done by local volunteers to accommodate nearly 200 visiting sailors.
Notice of Race
---
Orcas Sailors Are On A Roll!
Kitsap 10% regatta March 18-19.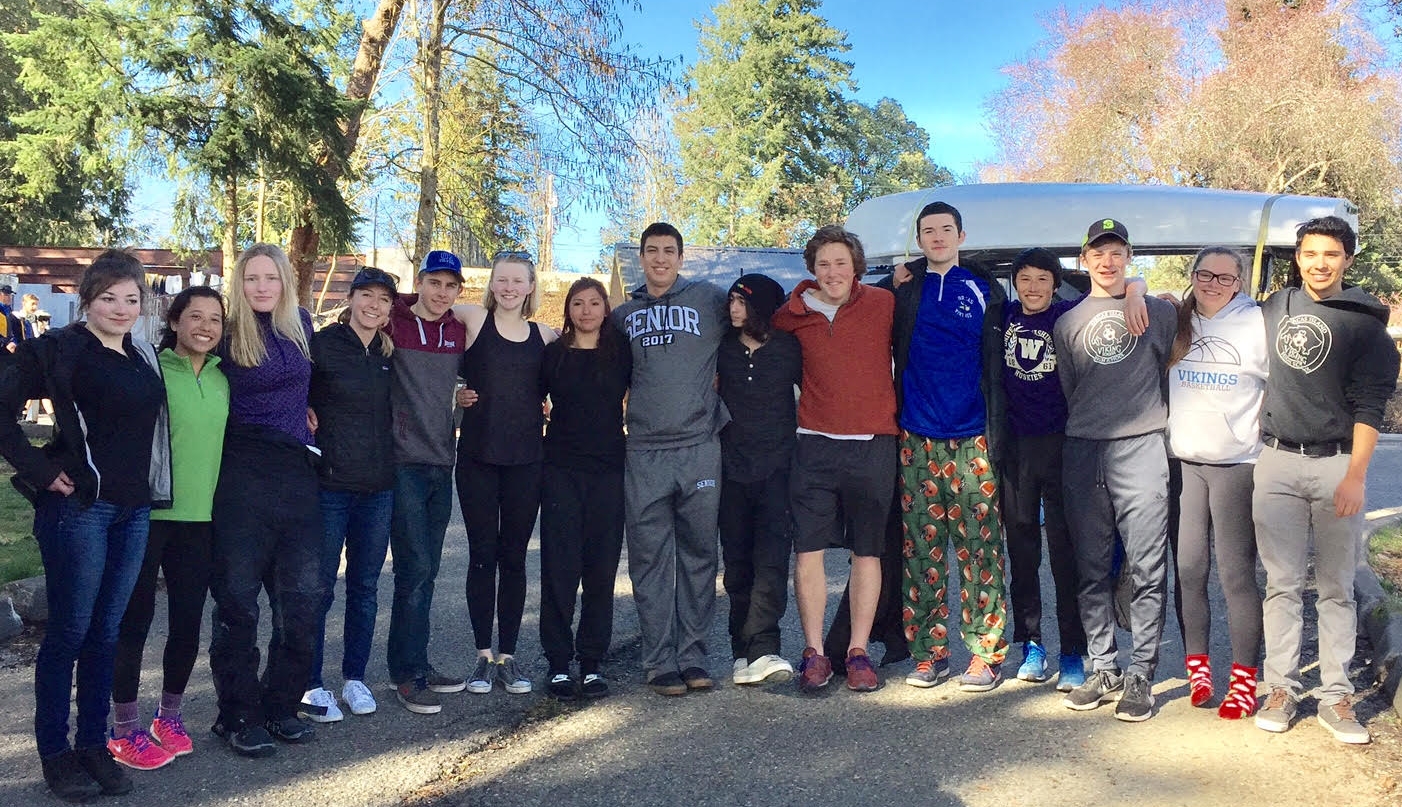 Fourteen Orcas sailors from the high school team travelled to Eagle Harbor on Bainbridge Island to compete in the Kitsap 10% regatta March 18-19. This two day district wide regatta counts as 10% of the team's season score, and helps determine what team will move on out of district to Nationals. Rain and light winds Saturday morning greeted the 150 competitors from 33 teams as boats were rigged and launched, by the time the first start gun sounded the rain had slacked and a light SE wind had filled the race course on Eagle Harbor. All the Orcas teams stayed focused and battled hard in the light and very shifty breezes in the first 4 races. The sun peaked out after lunch and the breezed shifted 180 degrees to the NW and built to a steady 15-18 with gusts near 20mph, and the Orcas team excelled in the conditions.
Sunday brought clear skies and light winds, the Varsity team competed in 16 races for the regatta, winning the last two securing the regatta win. Twelve races were completed by the JV team, which came from behind winning 3 out of the last 4 races, getting them the regatta win as well.
Complete scores can be found at: Kitsap - Varsity Kitsap - JV
---
Sail Sandpoint - Orcas Team Takes Gold
NWISA Combined Division Regatta March 11th & 12th
Over Two hundred sailors representing forty teams from the Northwest Interscholastic Sailing Association (NWISA) schools descended on Sail Sandpoint March 11&12 to compete at the NWISA combined division regatta. The teams were seeded into Gold, Silver and Bronze divisions based on their regional scores from March 4th.
The Orcas team, travelled to Sail Sandpoint with 13 sailors fielding two teams in the gold fleet and one team in the silver fleet. Rain, no wind and more rain greeted the team Saturday morning and after one light air race, the race committee postponed the racing and sent the teams to shore to wait for better conditions. The forecasted SW breeze finally filled in at 2:30, the Orcas sailors all enjoyed the steady winds. They all raced until the light faded, finally getting off the water around 6pm making for a long day. Orcas had positioned themselves well and after one day of racing the teams were 1st and 10th in gold fleet and 3rd in silver fleet. Sunday brought warmer weather, not much rain and light winds. The Orcas teams battled hard all day, with the Vikings 1 team holding on for the regatta win in gold fleet, and the Vikings 2 boat placing 8th in the gold fleet. In silver fleet the Viking team finished strong placing 3rd. The Team travels to Bainbridge Island next weekend for two days of racing on Eagle Harbor. Complete results from SSP Regatta can be found here: Gold Silver Bronze
---
NWISA North Regionals
Orcas Vikings have a great regatta
March 4th, 2017 in Anacortes
Spring sports got underway this past week on Orcas, including the Sailing team taking to the waters of West Sound for practices. The weather has been anything but spring like, snow on the ground and temperatures hovering in the 30's have made practices a challenge , but as the saying goes "island kids are tough" so the team practiced all week anyway.
Saturday March 4th the team travelled to North Regionals in Anacortes to kick off their "Spring Season" and was greeted with snow, sleet and cold, cold winds. "The team layered up with warm clothing and rallied to show immense physical and mental toughness in very trying conditions* said Coach Hannah Tuson-Turner. The results did not reflect the temperatures as the two Orcas boats placed first and second out of 14 boats in the first race, setting the tone for the day and battling between themselves for the top spot. Sixteen races were completed before the 4:30 pm stop time was reached, with Orcas Vikings 2, edging out Orcas Vikings 1 for the regatta win. "This win puts the Orcas team into a really solid position going into the Combined Division Regatta at Sail Sand point next weekend" said Tuson-Turner and "I am very excited to see the team working hard at improving their skills this spring!"
Complete results can be found at NWISA Results
---